Japanese culture has been inspiring the world of design for several centuries to create minimalistic and practical interiors. Bonsai, ikebana, rock gardens, and minimalist interiors have long become part of the lives of Europeans and are considered a sign of taste and elegance.
Asian traditions have also made an impact on the spa industry because hygiene and beauty are integral parts of Eastern philosophy. Therefore, alongside hammams, saunas, and steam rooms, one of the trendy directions in sauna design is the Japanese sauna.
What is a Japanese Sauna
A Japanese sauna is a special type of bathing area that is not a closed steam room.
The setup of such a sauna can include a large wooden barrel or a container resembling a bathtub or pool, filled with hot sawdust or stones.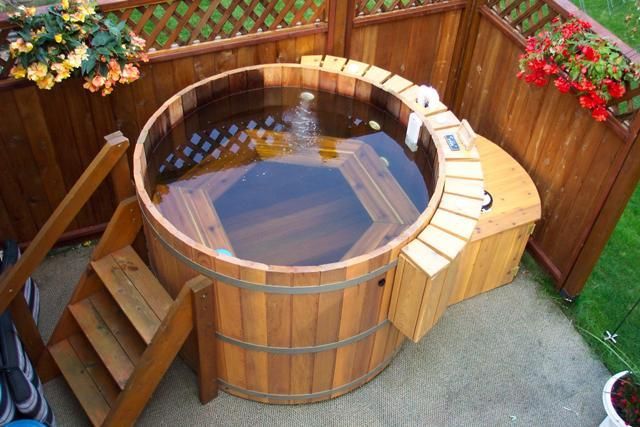 To understand the significance of these attributes and how to "steam" in such a "steam room," one needs to comprehend the purpose and order of these procedures.
Types of Japanese Saunas, Elements, and Traditions
Japanese saunas are categorized into three types, each offering different methods of body cleansing. What sets Furako, Ofuro, Sento, and Onsen apart? Read on to find out.
Japanese Sauna Furako
The wooden water barrel is known as "Furako." But Furako is not just a container for liquid; it's a complete steam system and a unique way to rejuvenate the body.
The Furako tub is a large wooden bath, typically round, occasionally oval in shape. It often has a double bottom. Embedded in the bottom of this tub is a wood-burning stove for heating the water. The stove can also be located inside the tub, in which case it is covered with a wooden grating. Alternatively, it can be positioned outside the tub, with hot water being delivered through pipes.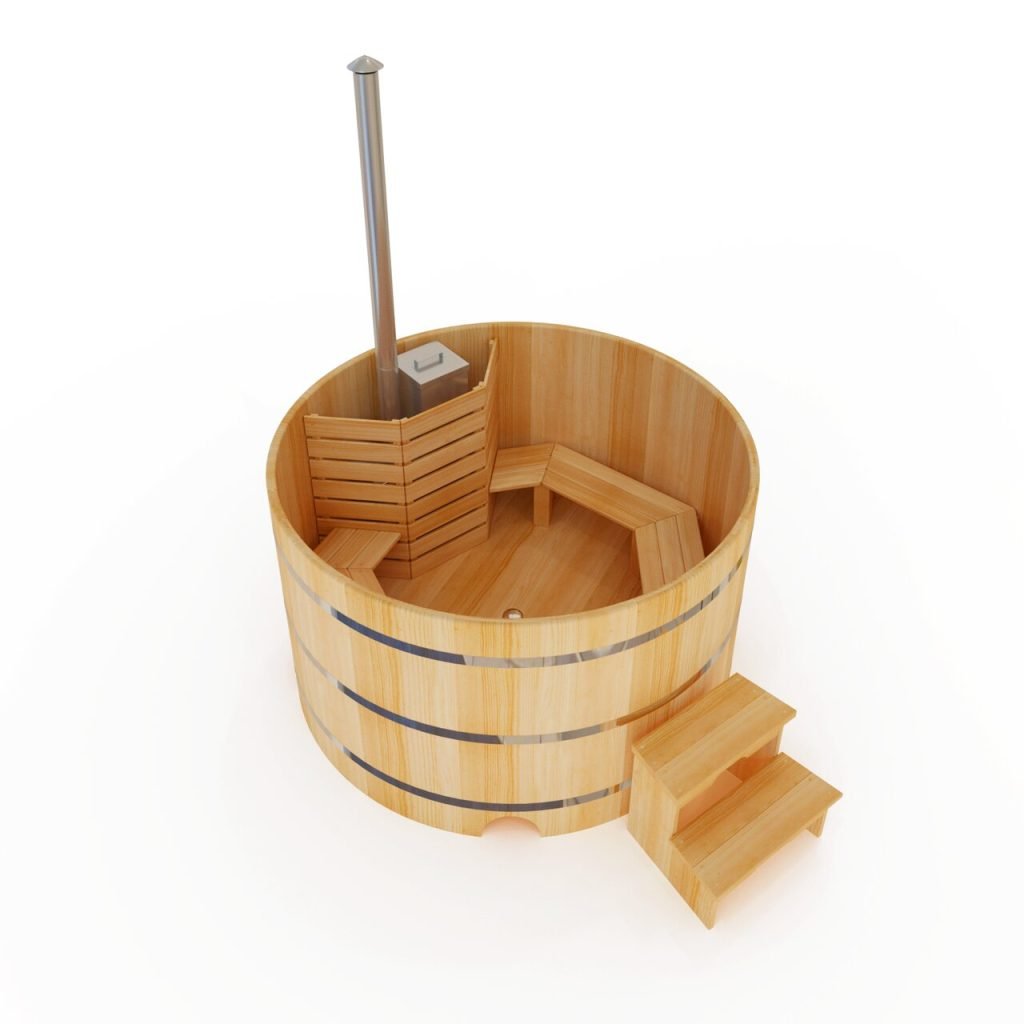 These barrels are crafted from cedar, oak, pine, or fir. Benches line the circumference of the tub. It is essential for such a tub to have a lid, which can be used to cover the barrel to maintain water temperature if the visitor decides to step out of the sauna momentarily.
This system does not require a separate room and is built with minimal firewood usage. Oils and herbal infusions are added to the water for skin softening and hydration.
The water in the barrel is very hot, so one should stay in it for no more than 15 minutes. Submerging in the tub is allowed only up to the waist, ensuring that the lungs and heart are not subjected to the hot water. This procedure is not suitable for children under three years old.
Japanese Sauna Ofuro
Another way to warm and cleanse the body from impurities is the Ofuro bath (o – a respectful prefix, furo – bath).
In the case of "washing" in an Ofuro, there isn't any water involved. In Japan, Ofuro refers to rectangular cedar boxes lined with metal and filled with sawdust or pebbles.
Like the Furako barrel, the Ofuro box has a double bottom with a built-in heating system. Traditionally, heating was done through a wood-burning stove. However, modern Ofuro manufacturers, especially for home Japanese saunas, equip these boxes with electric heating.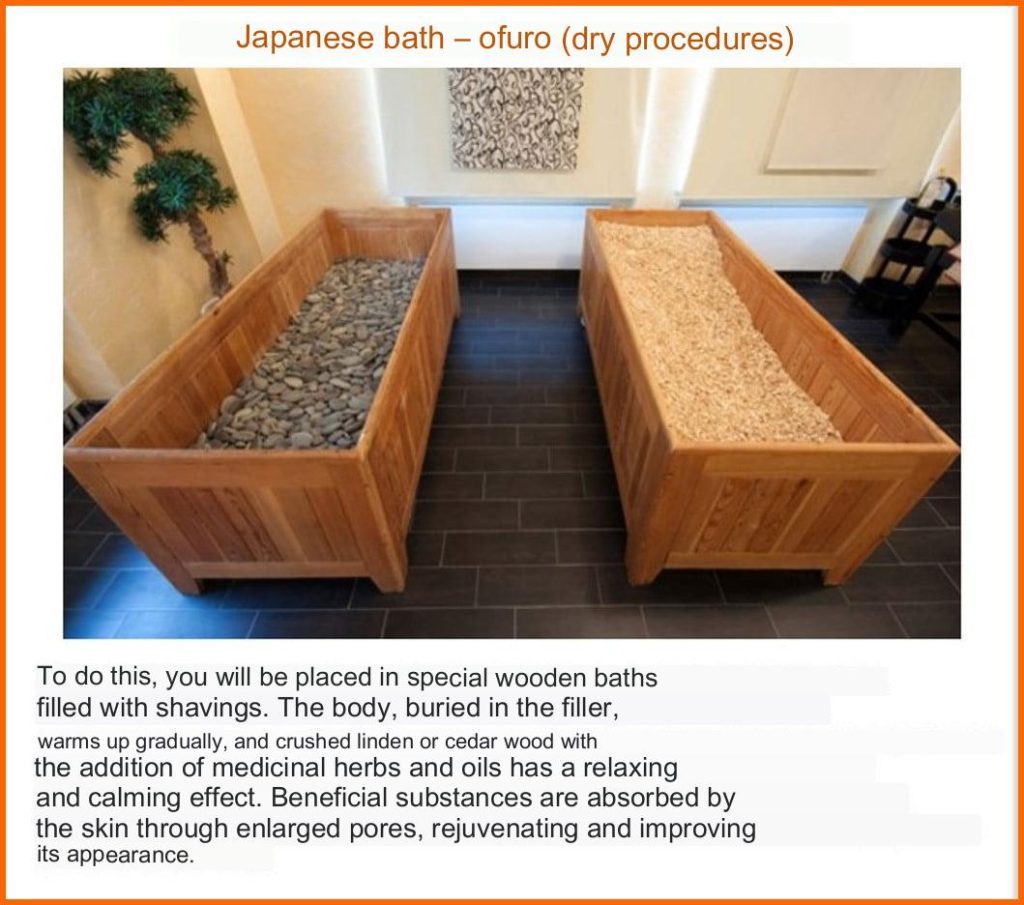 To cleanse one's body in a "dry sauna," it is sufficient to heat the pebbles or sawdust in the Ofuro and immerse oneself fully in the heated filling for no more than 10-15 minutes. For better effect, the body is preliminarily moistened with water.
Japanese Sauna Sento
Originally, Sento represented public baths with large pools and were built in places with thermal springs, Onsen.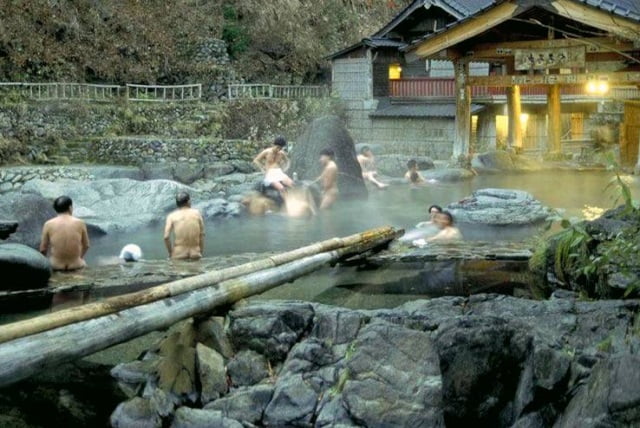 The water temperature in such a pool should reach 55 degrees Celsius. Before immersing themselves in hot water, visitors would drink green tea, followed by a massage procedure. Nowadays, Sento has transformed into private spa salons with a wide range of additional treatments but with artificial pool heating.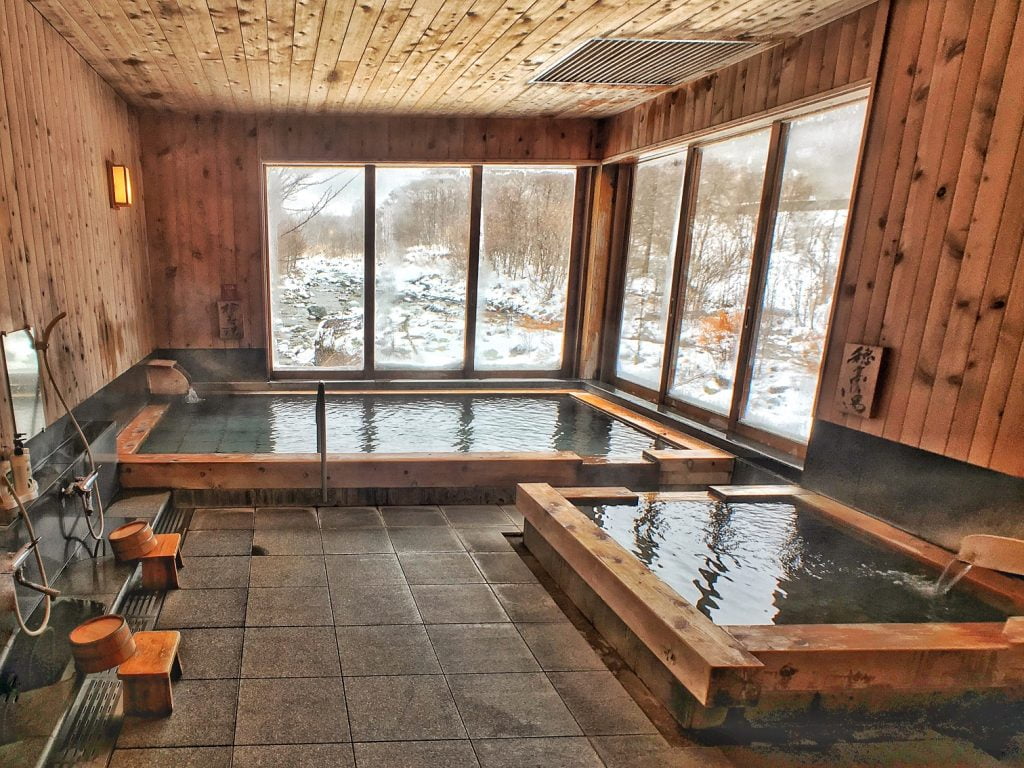 The necessity of organizing hygienic procedures in such a unique way was driven by the scarcity of fresh water, wood, and detergents in Japan. Due to these constraints, the Japanese developed and popularized the culture of "washing" with high temperatures.
The principle of operation of any Japanese sauna involves treating the body with high temperatures, which helps eliminate dirt and harmful microbes.
Benefits of Japanese Sauna
The Japanese sauna has proven health benefits for individuals. When Japanese spa procedures are done correctly, it enhances the functioning of blood vessels and kidneys.
It boosts the immune response of the body and improves the performance of sebaceous glands.
Such a sauna is effective at relieving stress and is an efficient method for weight loss.
How to Bathe in a Japanese Sauna
Spa experts recommend combining Furako and Ofuro in the following sequence:
Start with a cool shower before beginning the procedure.
Steam your feet and perform a foot massage (traditionally combined with drinking hot green tea).
Submerge yourself up to your waist in a water barrel heated to 45 degrees Celsius, gradually warming it to 55 degrees. Stay in the Furako barrel for no more than 15 minutes.
After the barrel, thoroughly dry your body and move to the dry Ofuro sauna. The sawdust or pebbles in Ofuro should be heated to 60 degrees.
Finish with another cool shower.
To achieve the best results in a Japanese sauna, it's advisable to add essential oils and herbs to the water. Use sawdust made from aspen or cedar. A massage can also be beneficial after the hot procedures.
However, not everyone can withstand such high temperatures. Therefore, the Japanese sauna is strictly contraindicated for young children, pregnant women, and individuals with skin and cardiovascular conditions.
Building a Japanese Sauna Yourself
You can bring the concept of a Japanese sauna to either a city apartment or a private house.
First, you need to choose the right location for setting up such a steam room. Since the Japanese sauna is a popular spa complex, you can find Furako barrels and Ofuro tubs in specialized stores.
If you plan to create an outdoor Asian sauna in your backyard, it's better to choose bath containers heated with wood. If the Japanese sauna will be located indoors, it's more convenient to use modern models powered by electricity.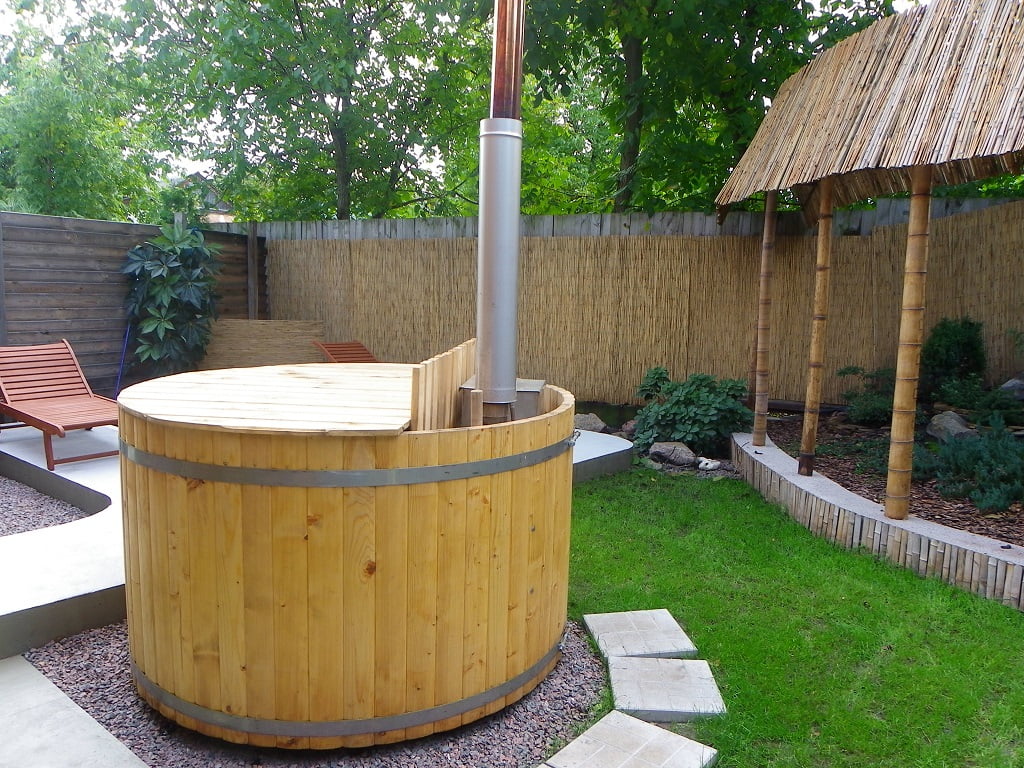 If you plan an outdoor Japanese sauna, you'll need to find a level area and provide a shelter. Direct sunlight can dry out the wood of an expensive barrel. An outdoor Furako should always be filled with water and tightly covered when not in use.
If your space is limited, but you want both a Furako and an Ofuro, you can build a two-level sauna, placing both bathing structures on them. However, keep in mind the dimensions and weight of the equipment. Factory-made Furako barrels have standard sizes of 100×120 cm and 130×200 cm (height and diameter). The thickness of the wooden wall is 4.5 cm, making the barrel very heavy even without water.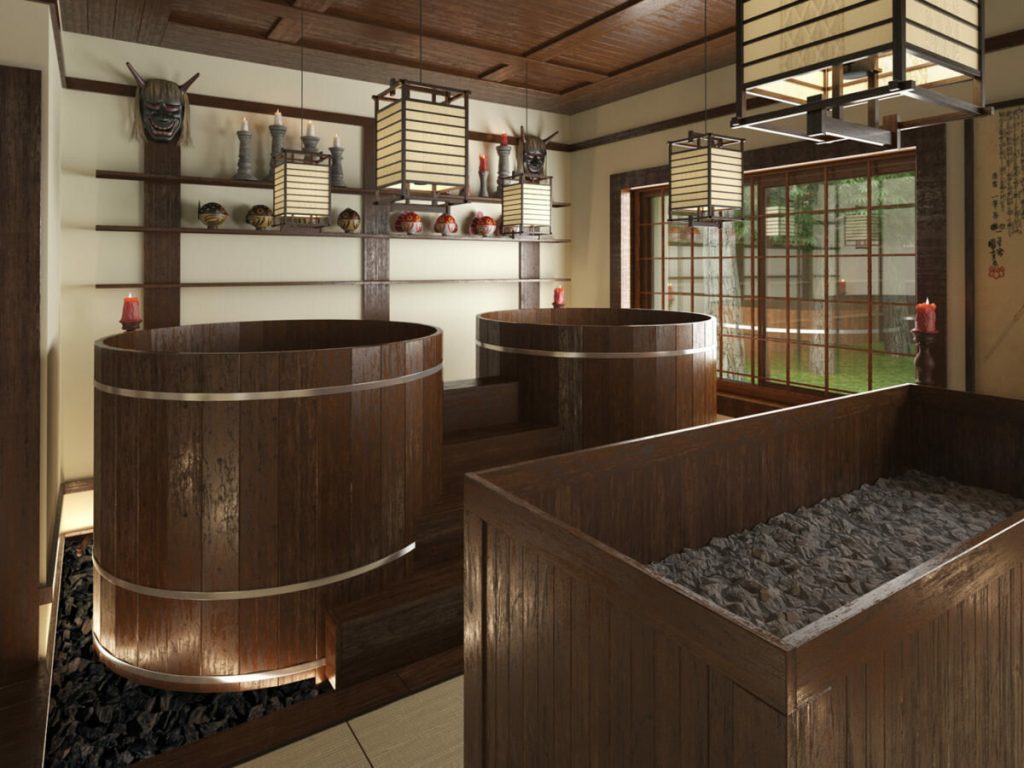 Ofuro bath boxes are made with dimensions of 180×50 cm, so that an adult can stand inside them at full height. The construction is very heavy, as it involves a solid metal covering in addition to cedar wood.
Considering these specific features and the weight, it's important to pay special attention to the foundation and load-bearing slab when building a Japanese sauna. When constructing the base for a Japanese sauna, you can use a strip foundation. However, it's better to pour a monolithic slab in the area where the Furako or Ofuro will be located.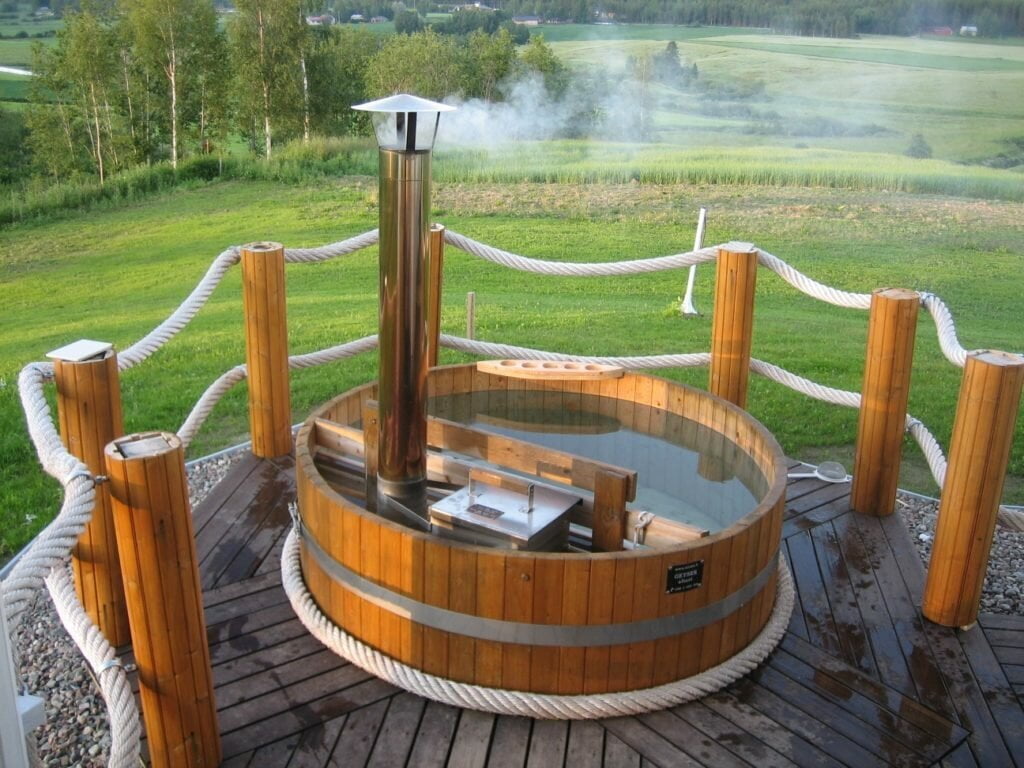 If the Japanese sauna is intended as a standalone structure, walls are erected on the foundation. There are no specific requirements for the walls of this type of sauna. The roof structure and roofing material also depend on personal preferences.
The interior of the Japanese sauna does not involve separate rooms for equipment since all heating systems are integrated into the bottom of the Ofuro and Furako. However, any room for water procedures should have plumbing, water supply, and electricity.
It's advisable to use natural materials for wall finishing in the Japanese sauna to prevent the release of toxic substances under the influence of high temperatures.
Japanese Sauna. Video Overview