The floor made of laminate boards is almost indistinguishable from fine parquet. Although laminate lacks the longevity of hardwood, it comes with an affordable price tag and easy installation. Its core consists of medium-density fiberboard (MDF) to which a paper layer with a pattern is adhered. This paper layer is further protected by a coating of acrylic or melamine resin.
In more expensive and wear-resistant types of laminate, the protective layer may include corundum. Thanks to this top coating, laminate is resistant to scratches, wear, chemicals, and UV rays. Such a variety of laminate options can lead to difficulties in making a choice. So, which laminate is ultimately the best for your apartment or house? Which brand of laminate should you choose? What laminate class is suitable for an apartment? Let's read on and find out.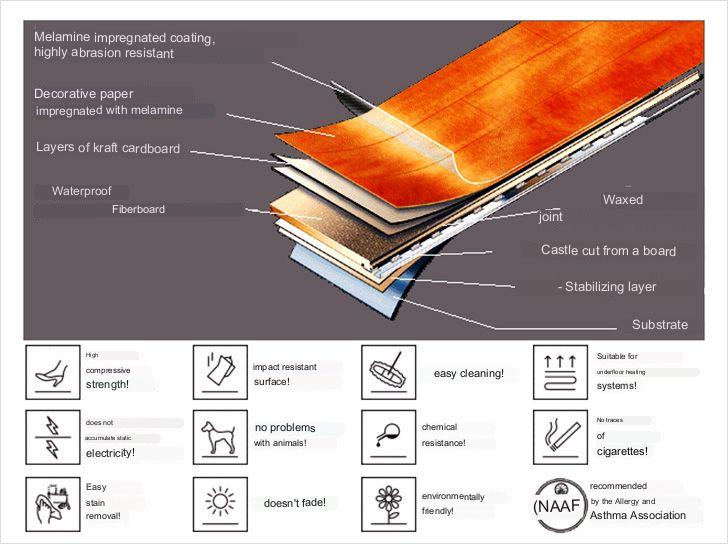 Which Laminate Is Best for Your Apartment or House
The choice of laminate for an apartment or house depends on its practicality and durability. The laminate class is responsible for these qualities. The higher the laminate class, the more expensive it is. Therefore, you should select the laminate class based on its intended use for specific rooms.
Which Laminate Class Is Best. Laminate Classification
Before receiving their markings, all laminated floorings undergo tests for load, wear, impact resistance, high temperatures, humidity, and more. Laminate is divided into two types: residential and commercial.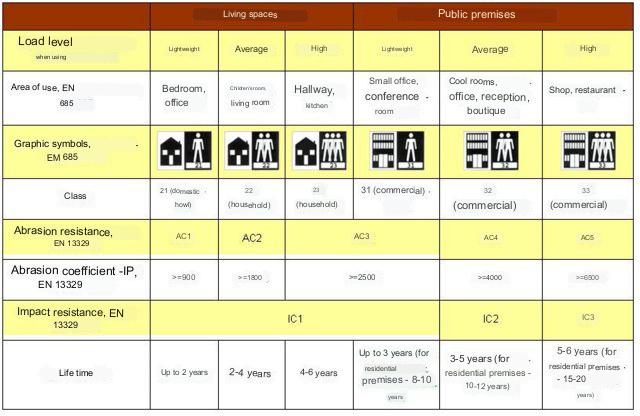 Classification by Wear Resistance. Residential Laminate.
This type of laminate is exclusively used for apartments and houses. Due to its low wear resistance, residential laminate is rarely used.
• Class 21 – will last about 1-2 years at best. Suitable only for low-traffic areas like bedrooms or closets. This class is not very popular.
• Class 22 – moderate wear resistance, can last 2-4 years.
• Class 23 – used in areas with higher foot traffic and can last 4-6 years.
Commercial Laminate and Its Classification.
Such flooring can withstand 3-6 years of high traffic use. In residential conditions, laminate will last much longer, up to 10-15 years.
• Class 31 – has the lowest wear resistance for public spaces. This laminate will last no more than 3 years in an office setting, but twice as long in a residential environment. Class 31 is suitable for small reception areas and offices.
• Class 32 – has a service life of 3-5 years under moderate foot traffic. In a residential setting, this flooring can last 11-15 years. It's a good option for both apartments and offices.
• Class 33 – can withstand very heavy loads and will maintain its attractive appearance for about 5-6 years. For residential conditions, this type of laminate can last a very long time, up to 20 years.
• Class 34 – has very high wear resistance. It's used in sports complexes and shopping centers. Class 34 laminate can handle foot traffic from several thousand people per day. In a residential setting, it can be considered virtually everlasting.
Types of Laminate Flooring
On laminate packaging, you may find various markings that indicate its appearance, design, thickness, joint type, water resistance, and more. Let's delve into the different types of laminate available.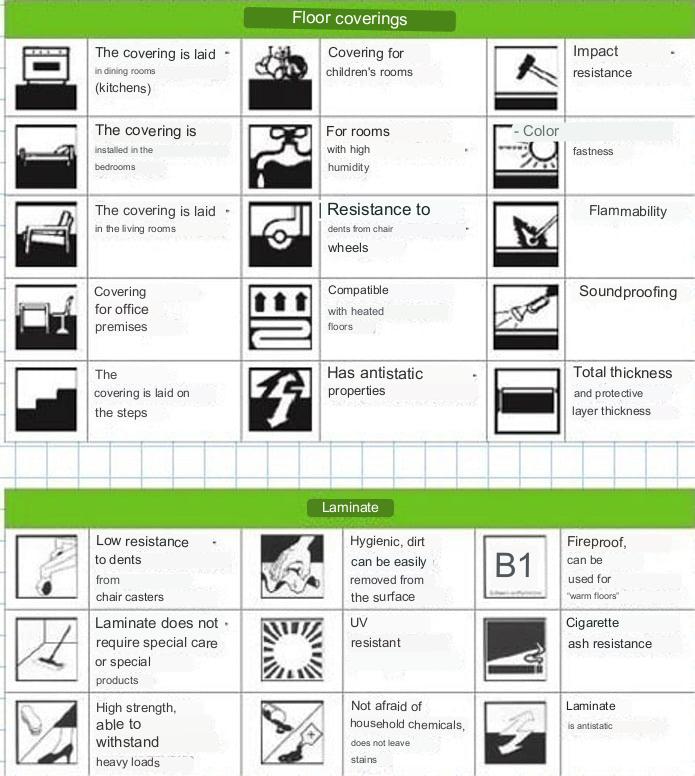 Laminate Classification by Design
• Wood – an imitation of various wood species.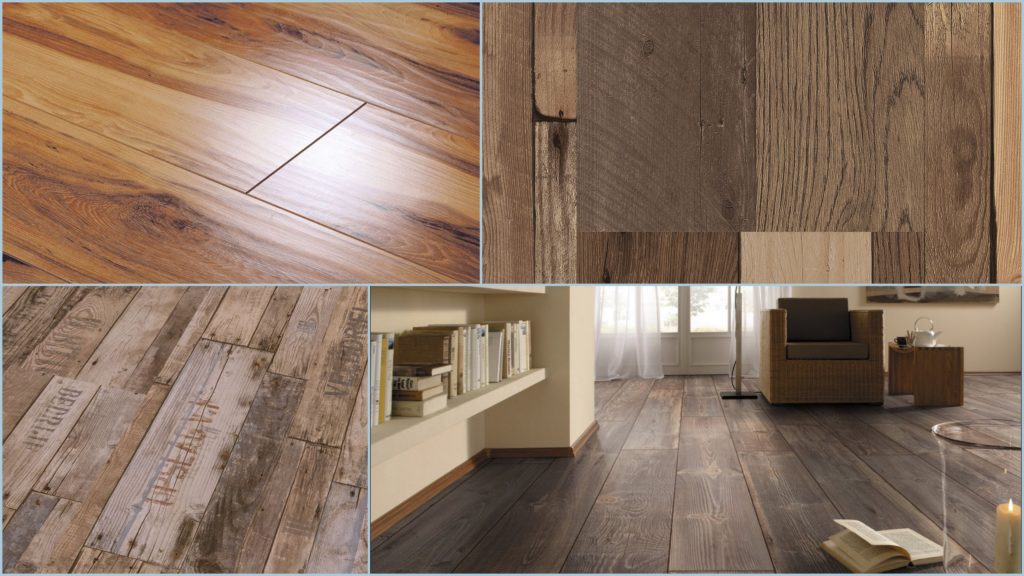 • Leather – a unique choice for stylish room design, resembling crocodile and reptile skin.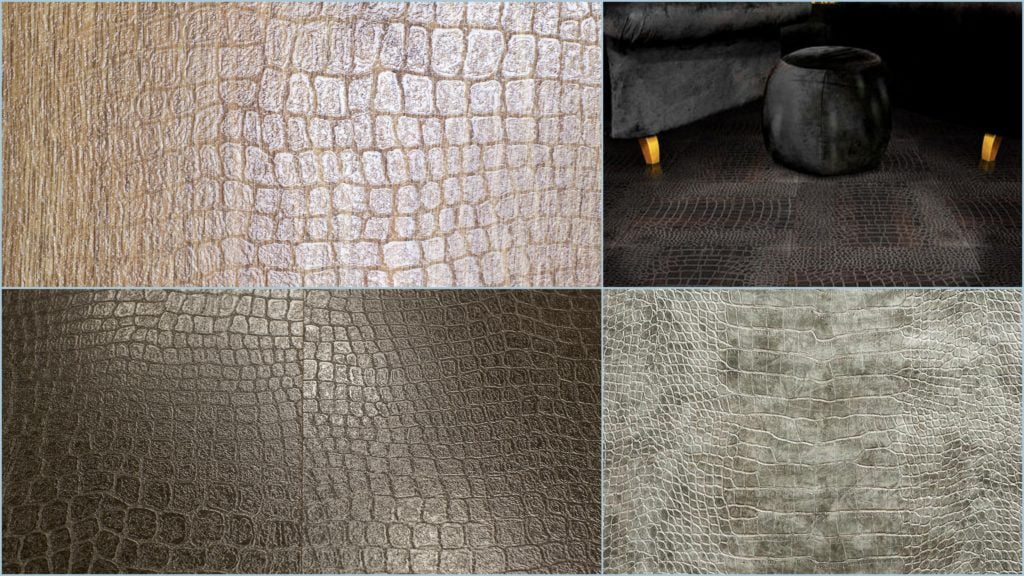 • Metal – a stylized solution for nightclubs, ultra-modern living rooms in a high-tech style, or contemporary kitchens with an abundance of glossy appliances.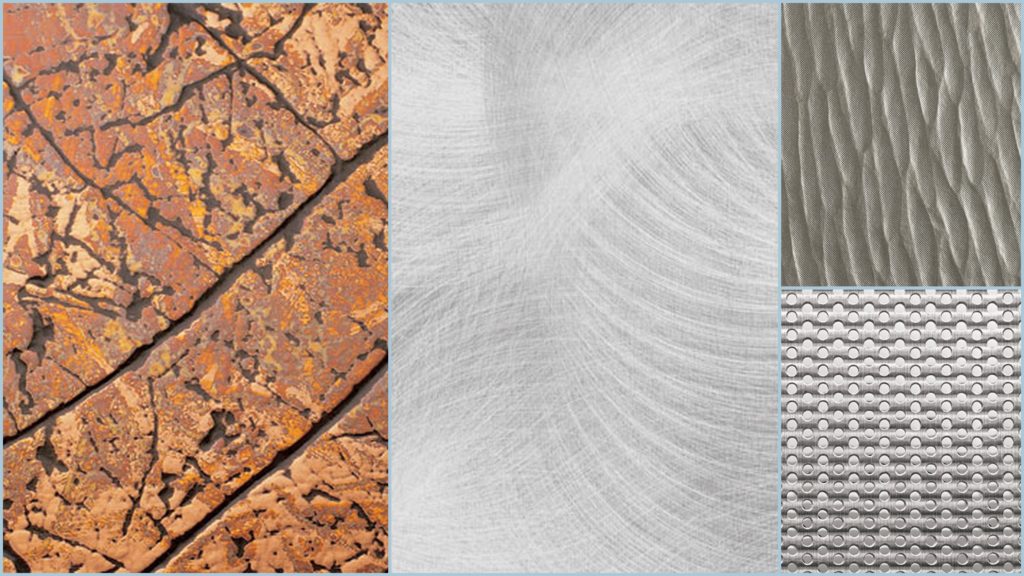 • Stone – renowned brands like Witex, Egger, Alloc, Kronotex, Quickstep offer a variety of stone-inspired floorings. This imitation blends perfectly with various interiors and doesn't have the downsides of real stone: high cost and a cold surface.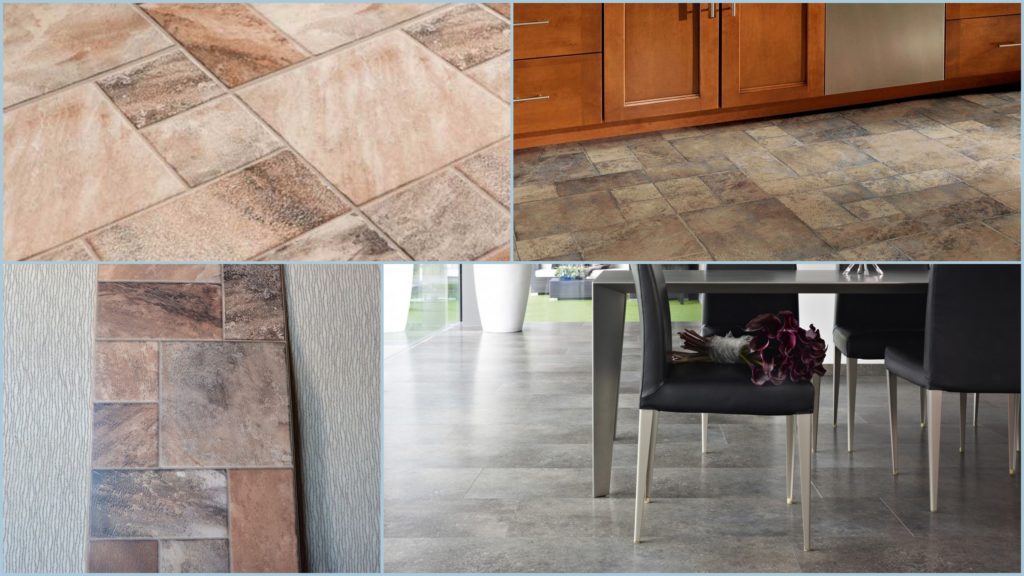 • Designer Laminate – exclusive patterns, textures, abstract designs, and vibrant colors are characteristic of designer laminate collections.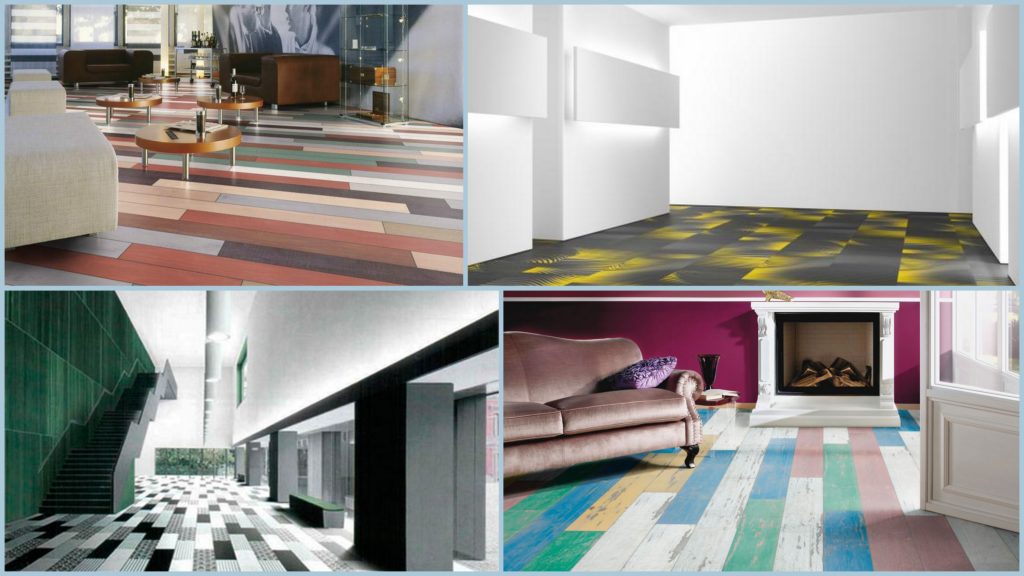 Types of Laminate Surface Finishes
• Classic Wood – a smooth surface with the imitation of sawn wood of various wood species.
• Aged Wood – creates irregularities, wear marks, and cracks, giving the appearance of aged wood.
• Glossy Finish – laminate with a shiny, mirror-like surface.
• Textured Coating – features reliefs that create the impression of natural wooden planks.
• Embossed Finish – imitates the roughness of wood grain.
• Oiled Wood – polished wood surface.
• Natural Wood – planks with a wood grain pattern covered with lacquer.
• Waxed Finish – resembles waxed solid wood planks.
• Country Style – large wood grain relief, barely smoothed by a plane.
Laminate Shapes and Sizes.
• Rectangular Planks – ranging from 120 to 200 cm in length. This is the most common and practical option for installation.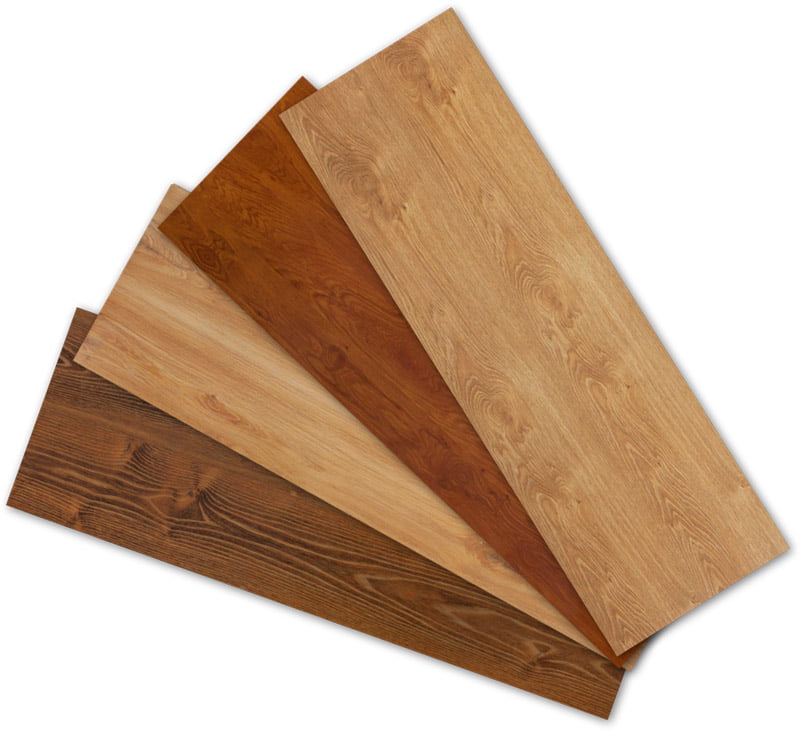 • Tile-shaped – square tiles are more suitable for intricate patterns. This type of laminate is more expensive but easier to install, and there's no need for an underlayment.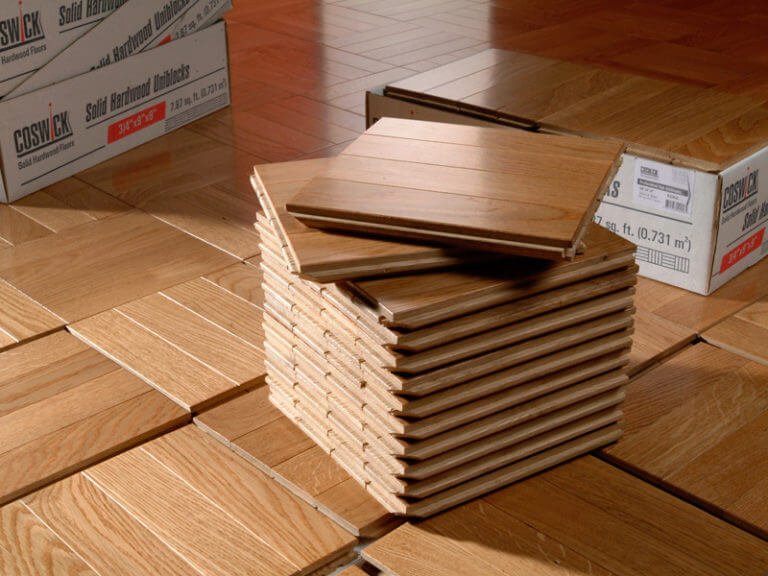 Types of Laminate Locking Systems
Glue-Based Tongue-and-Groove Connection.
Currently, it is nearly impossible to find laminate flooring with this type of connection. The tongue-and-groove joint is additionally glued and fitted using a mallet. Replacing boards with this type of lock is difficult, as disassembly or repair involves sawing and breaking. The tongue-and-groove laminate connection is weak and prone to breaking.
"Lock" Connection.
An improved type of locking connection, which does not require adhesive. A specially profiled tongue securely holds in the groove when snapped into place. However, disassembling it is also impossible without damaging the locking elements.
"Click" Connection.
This type of lock doesn't require glue or a hammer. The board is inserted into the groove at a slight angle and easily lays flat on the floor, with the tongue securely locking in place. Installation and disassembly are straightforward. It's a reliable and practical locking option.

Combination Connections
Combination locking systems offer the advantage of convenience by combining the features of both the "Lock" and "Click" systems. They are more versatile and user-friendly.
Laminate Water Resistance
Until recently, water exposure on laminate flooring was a concern. Today, waterproof laminate flooring is made from HDF panels. Typically, laminate is installed on concrete floors, which can develop condensation due to temperature variations. Excess moisture absorbed by the flooring can lead to mold, mildew, and rapid decay.
Currently, there are several types of waterproof laminate:
• Plastic or vinyl laminate – completely impervious to water, though it lacks the natural feel of other materials.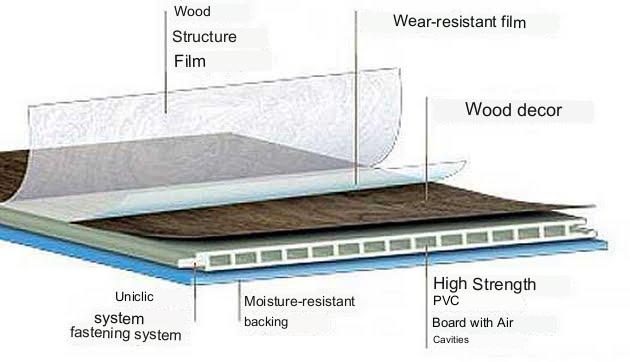 • Waterproof laminated flooring – increased resin content in the material allows the boards to withstand up to 6 hours of water exposure without damage. Some panel types, such as the Kronotex Ocean collection, can even be used in bathrooms.
• HDF panels – can withstand up to 3 hours of water exposure without changing shape. All modern HDF panels of class 32 and 33 have waterproof properties.
To minimize water exposure on laminate and avoid deformation, follow these rules:
• Laminate should be installed with an underlayment.
• Waterproof laminate is not suitable for areas with high humidity, such as saunas and steam rooms.
• In areas with frequent temperature fluctuations, use a floating installation method for laminate boards, and leave gaps between the floor and the wall.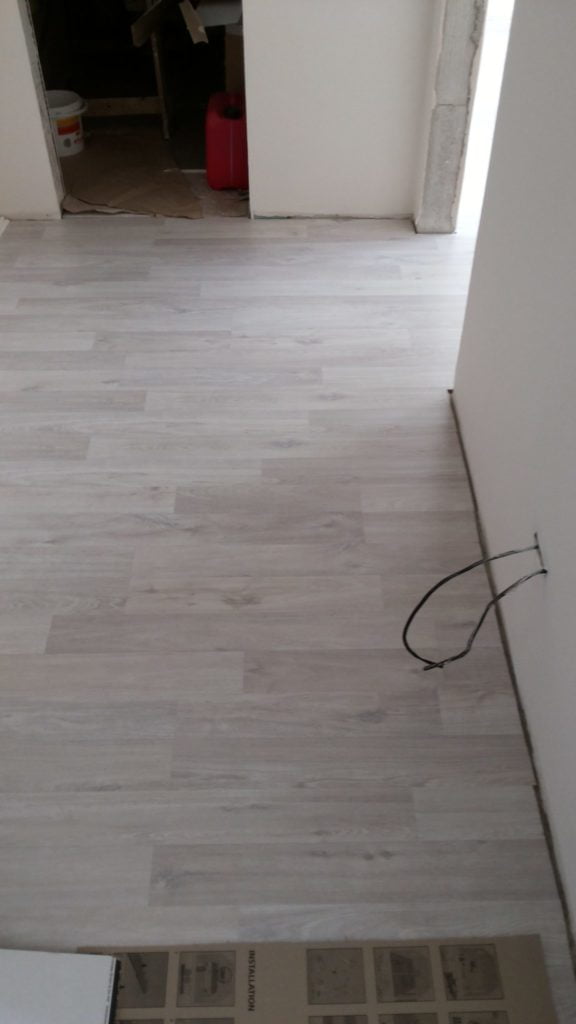 Modern waterproof laminate is suitable for almost any room with humidity levels below 70%. It can withstand regular cleaning and minor liquid spills, provided that spilled water is promptly cleaned up.
How to Prepare the Floor for Laminate Installation
Preparatory measures for preparing the floor for laminate installation are a crucial step, and skipping them will lead to regrets later on. Floor irregularities greater than 2mm will inevitably result in loose joints, squeaking, uneven floors, gaps between boards, and other issues. Therefore, leveling the floor before installing laminate flooring is a necessary condition. The surface must be perfectly flat, with deviations not exceeding 2mm per meter of the surface.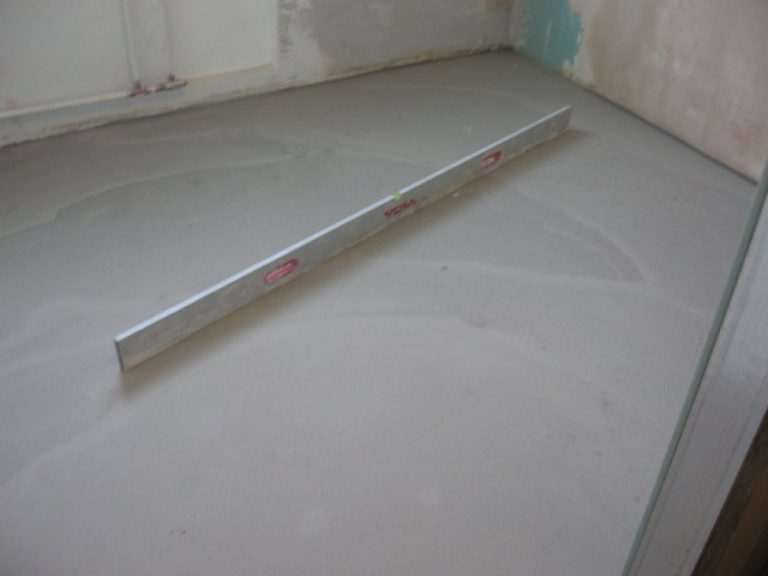 You can prepare the floor for laminate installation using several methods:
• Cement screed.
• Self-leveling compounds.
• Wooden subfloor.
Concrete Floor
• Clean the room, remove debris and dust from the floor.
• Mark the level to which the screed will be poured around the perimeter of the walls.
• Install beacons at approximately one-meter intervals.
• Pour the cement mixture and level it using the beacons.
Wooden Subfloor
• Replace rotten boards, tighten floorboards to the joists to eliminate squeaks.
• Lay plywood or particleboard sheets with overlapping seams. Leave gaps between the sheets.
• If the floor has significant irregularities, lay the sheet material in two rows. To level the floor under the sheets of flooring material, place blocks and pieces of plywood or particleboard.
Self-Leveling Floor for Laminate Installation
• Prepare the mixture according to the instructions.
• Pour the self-leveling compound on the floor from the wall opposite the door.
• Roll the surface with a spiked roller until it is mirror-smooth.
You can start laying laminate flooring after 3-4 days of the screed drying.
Choosing the Right Underlay for Laminate Flooring
The choice of underlay for laminate flooring is crucial, as it plays a significant role in the preparatory work for laminate board installation.
Foam Polyethylene Underlays
• Affordable
• Excellent moisture protection for laminate
• Easy to install
• Resistant to rot, mold, and mildew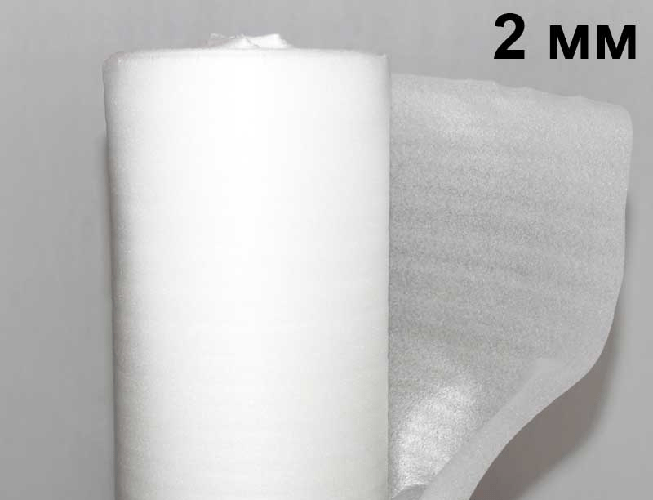 Cork Underlays
• Environmentally friendly
• Low thermal conductivity
• Durable
Cork doesn't tolerate moisture well, so it should be installed over a layer of waterproofing.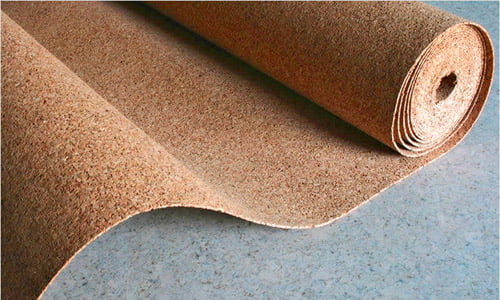 Bitumen-Cork Underlays
The base of such underlay is paper impregnated with bitumen, providing excellent protection against moisture and condensation. However, it comes at a higher price compared to alternatives and is not commonly used.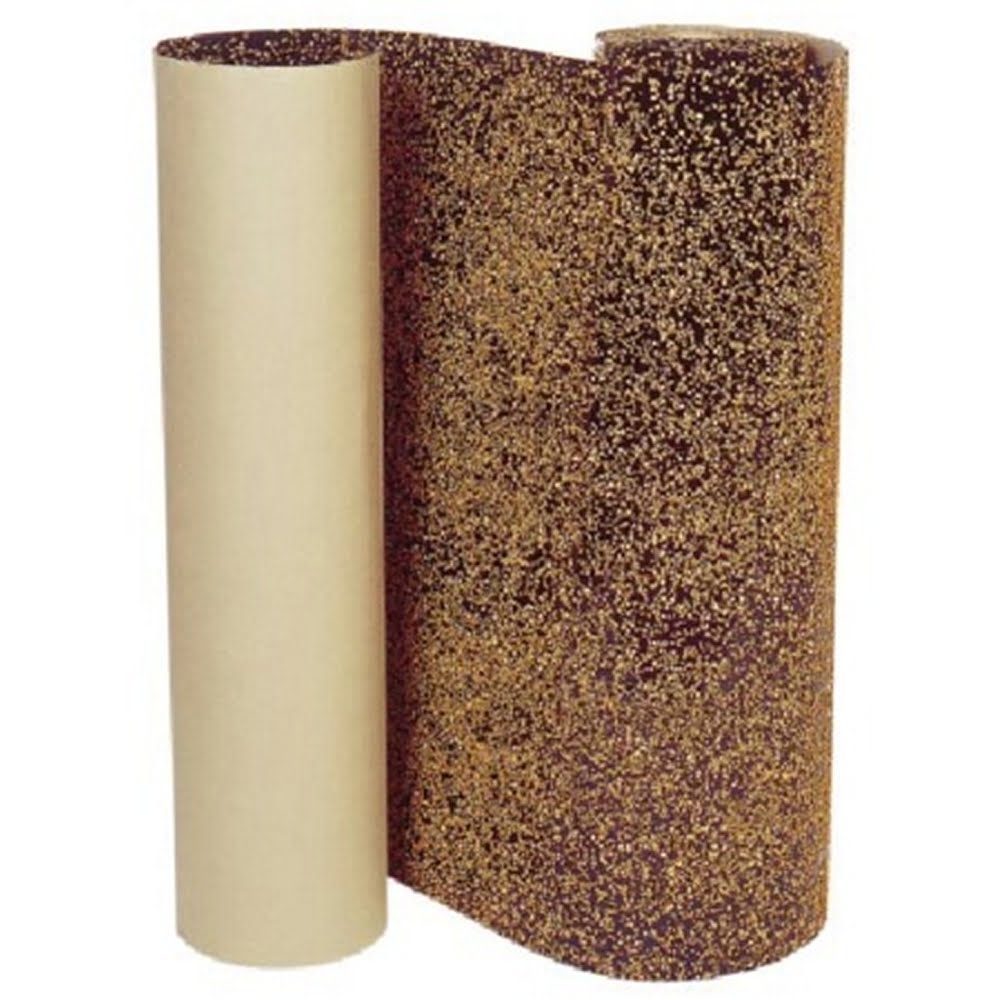 Pine Needle Rolls
Not only an environmentally friendly underlay but also emits a pleasant pine scent beneficial for respiratory health. Pine needle underlay excels in thermal insulation and moisture protection. It's rarely available off the shelf as it's usually custom-made due to its high cost.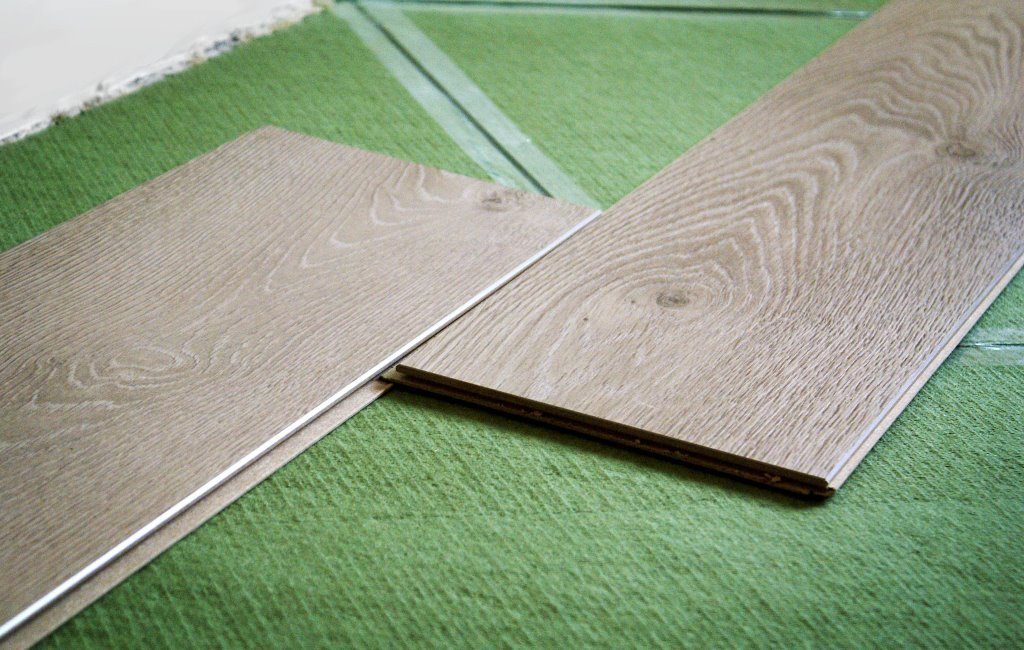 Which Laminate Flooring Brand to Choose for Your Apartment: Reviews
There are numerous laminate flooring brands available, which can often be overwhelming when making a choice. By examining the pros and cons of various brands, you can navigate through the wide variety of laminate options.
Some of the most well-known brand names include:
• Quick-Step – a renowned brand of Belgian-Russian origin. The lifespan of Quick-Step laminates is at least 15 years, with some lasting up to 20 years without showing significant wear and tear. It is known for its exemplary European quality, exceptional durability, and design. However, it is on the pricier side, and the selection of patterns in the 33 class is somewhat limited.
• Berry Alloc – produced in Norway and Belgium, this brand employs a highly technological approach to manufacturing. When it comes to producing waterproof boards, Berry Alloc is unrivaled, and its interlocking laminate connections are very sturdy. The products of this brand tend to have a higher price point, which is typical for premium materials.
• Parador – a German manufacturer, primarily producing designer laminate. While the technical quality is average with a high price tag, the brand stands out with its originality.
• Kaindl – a well-known Austrian company that specializes in wood products. Kaindl laminate is known for its environmental friendliness and high durability. It comes with a 30-year warranty.
• Balterio – a Belgian manufacturer that produces high-quality laminate, although it is more expensive than similar brands like Kaindl and Quick-Step in terms of similar characteristics.
• Haro – excellent quality from Germany, though it comes at a relatively high price.
Budget-Friendly Laminate with Good Quality and Affordable Prices
• EPI – an attractive and budget-friendly laminate option from France. It offers decent average durability and moisture protection.
• Kronotex – all the parameters of this German brand's products strictly adhere to the specifications in their data sheets. It provides average quality at affordable prices.
• Egger – another German brand. The advantage of this brand is its low price, but its variety and color options are not as extensive, and the available patterns may not be very interesting.
• Tarkett – a well-known brand from Russian manufacturers due to extensive advertising campaigns. Tarkett offers a good level of variety and design, although it's possible to find European laminates with similar external parameters and quality at a lower price.
Chinese Laminate Flooring
No Chinese brand is registered with the EPLF association, which means that their labeling may not meet European quality standards. The issue here is that manufacturers who are not part of the association have the full right to label laminate flooring as they see fit. Therefore, it's important to be cautious with Chinese laminate flooring – a European classification of 33 or 34 might correspond to a much lower quality level.
Laminate in Interior Design
When choosing laminate flooring for different rooms, one should consider its appearance and practical characteristics.
Choosing Laminate for Different Rooms
• For the kitchen, laminate should meet moisture resistance parameters, be non-slip, and have a high load class – not less than 33. A textured surface is most suitable for the kitchen, as it hides stains and streaks better than a glossy finish.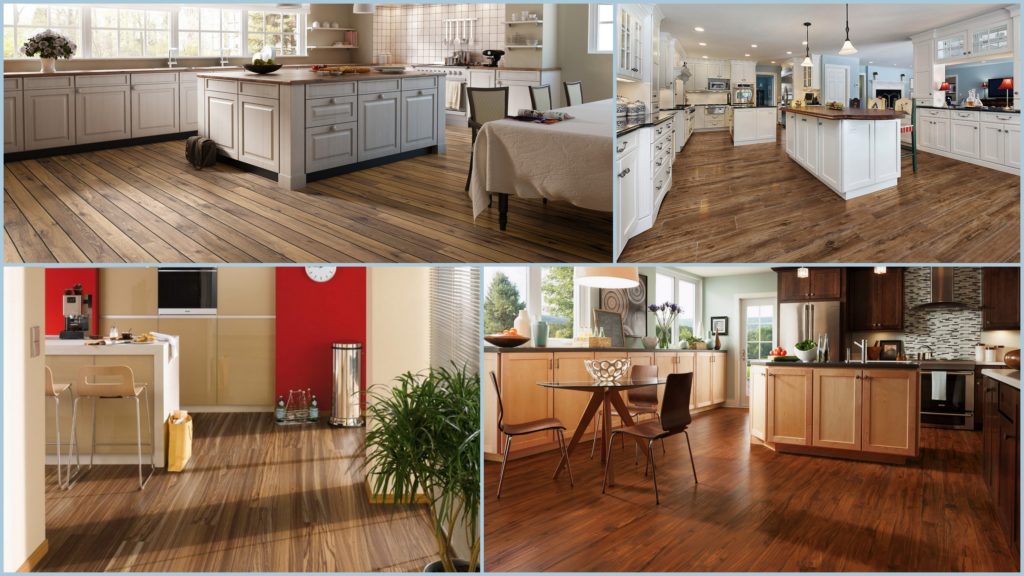 • Waterproof PVC laminate is used for the bathroom. Some models come with a rubber seal along the edges to ensure good sealing.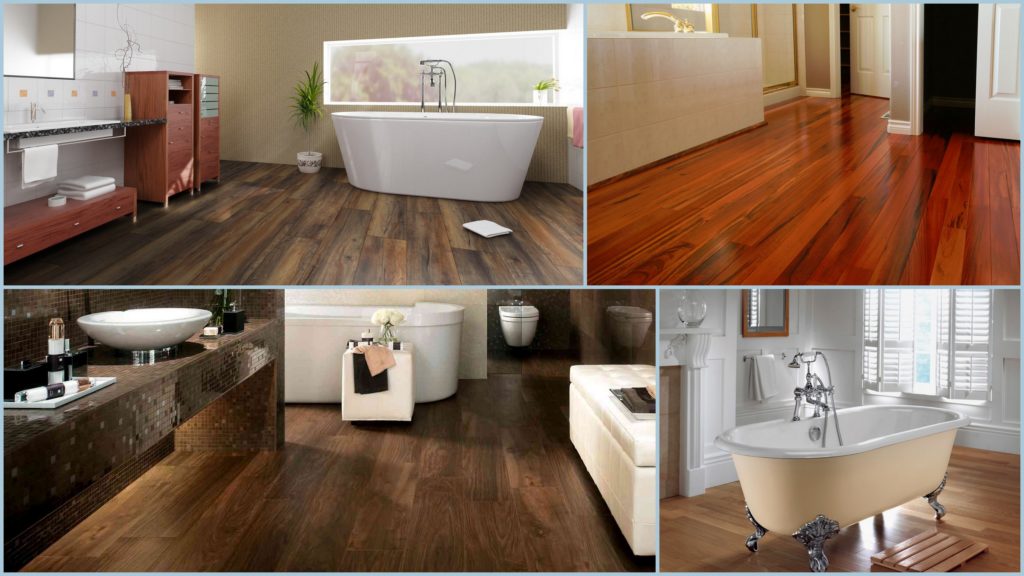 • The bedroom and children's room require sound insulation and high environmental friendliness. For the living room and children's room, laminate from class 23 and higher is suitable, while class 22 is sufficient for the bedroom.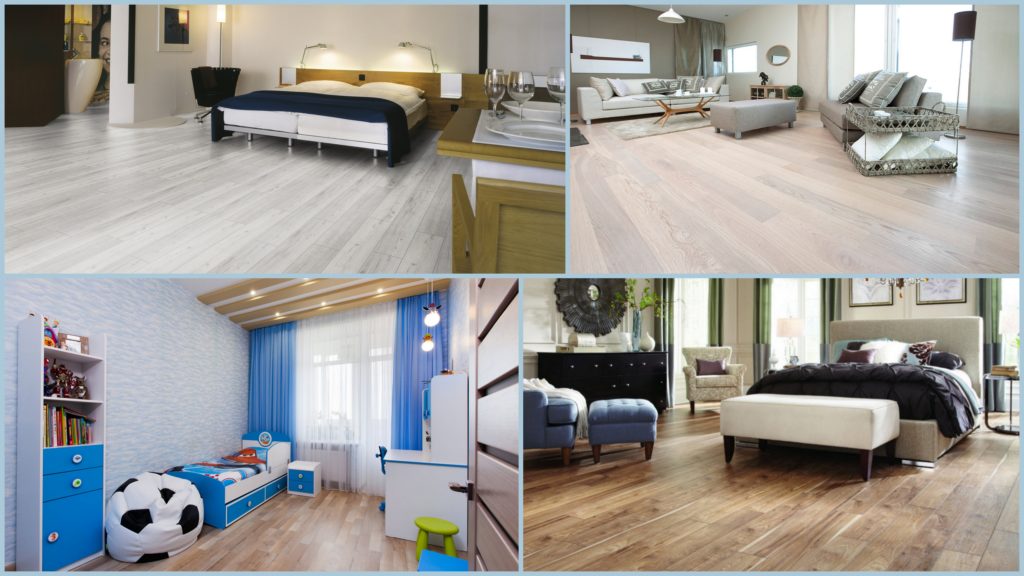 • Hallways and corridors require high-quality wear-resistant laminate of class 33 or 34. These areas experience high foot traffic and collect dirt and sand from outside.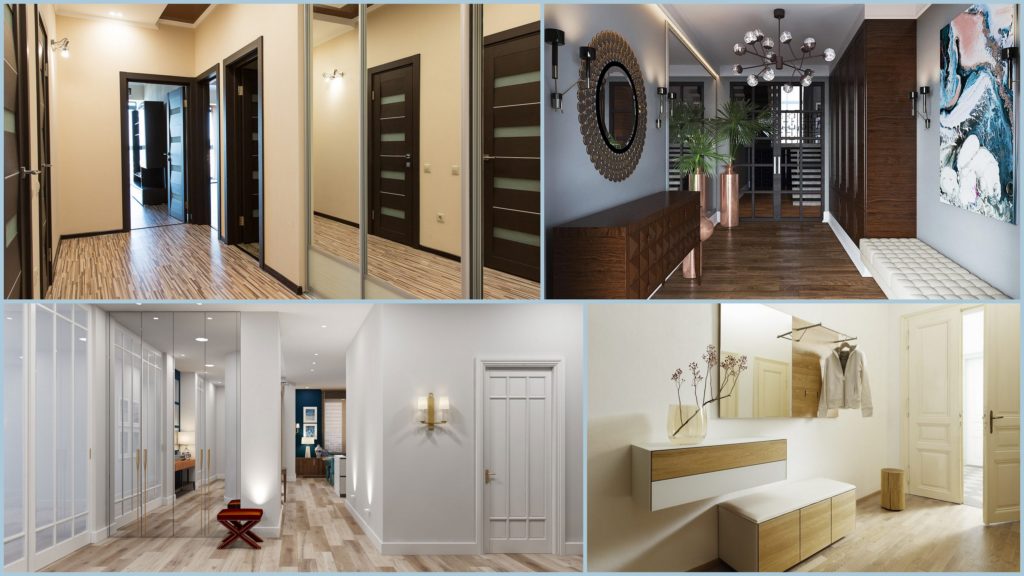 Laminate in Interior Design
• Provence style – for a rustic simplicity, light-toned laminate with specks and a weathered texture is suitable.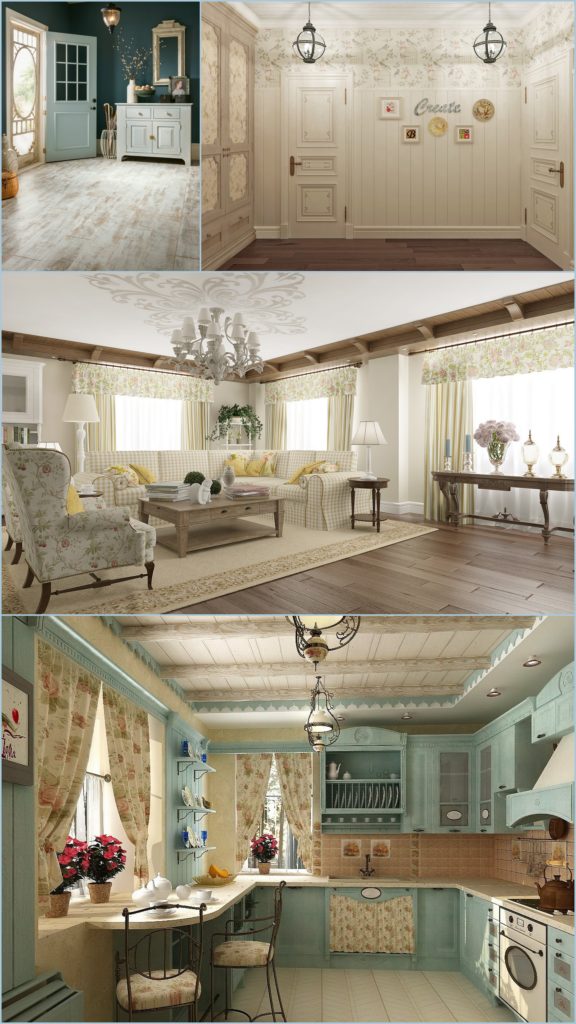 • Country style – this style features laminate imitating rough wooden planks with a textured surface in natural dark shades.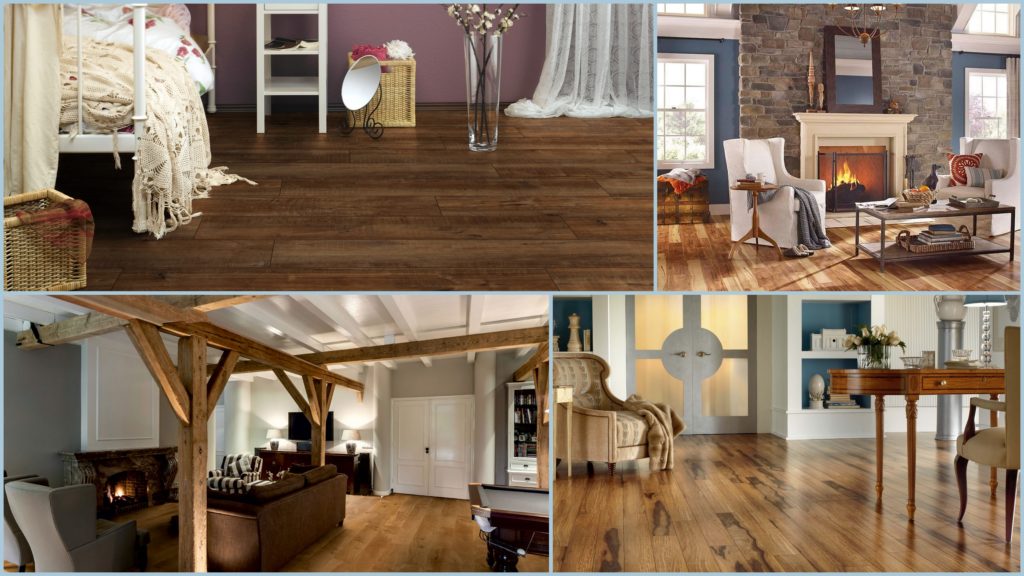 • Swiss chalet style – in this style, natural stone and wood are combined. Walnut and ash-colored laminate is used to emphasize the natural colors of the style.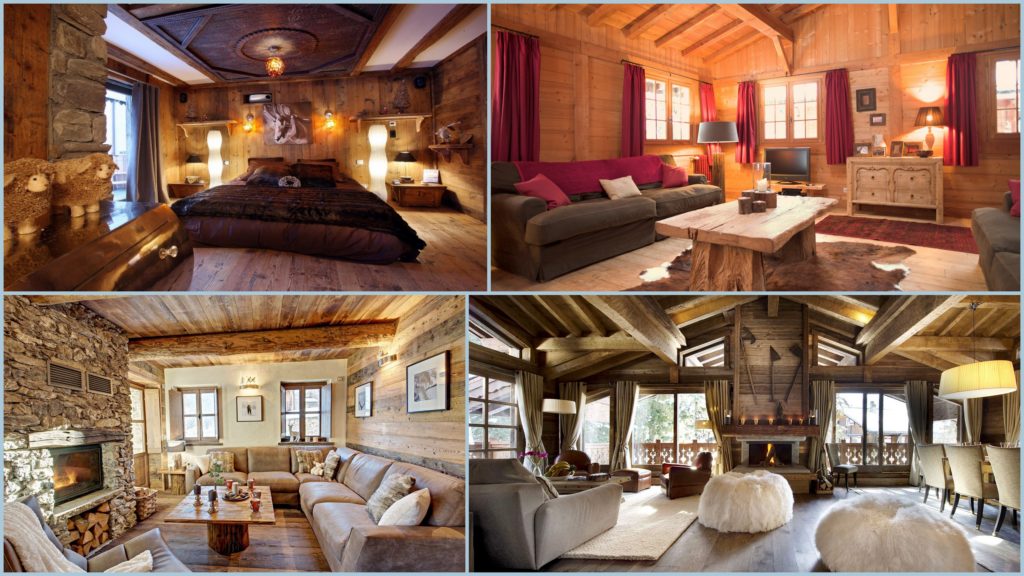 • Japanese style – bamboo and sisal imitations are perfect for this style. The shade can vary from dark to very light, but it should harmonize with the room's overall color scheme.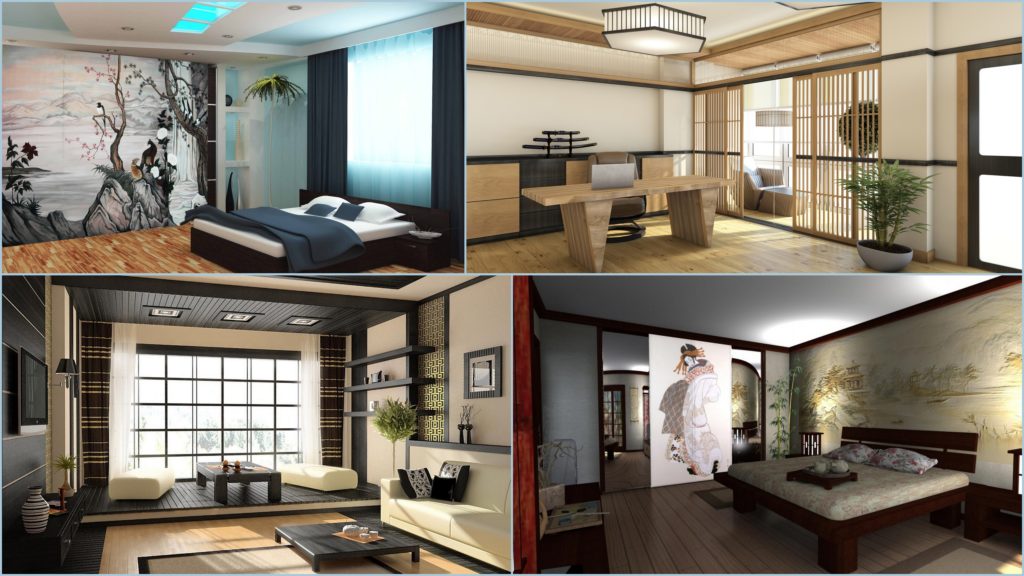 • Minimalism – white, black, or gray laminate works well for this style, which typically uses no more than two or three colors in the interior.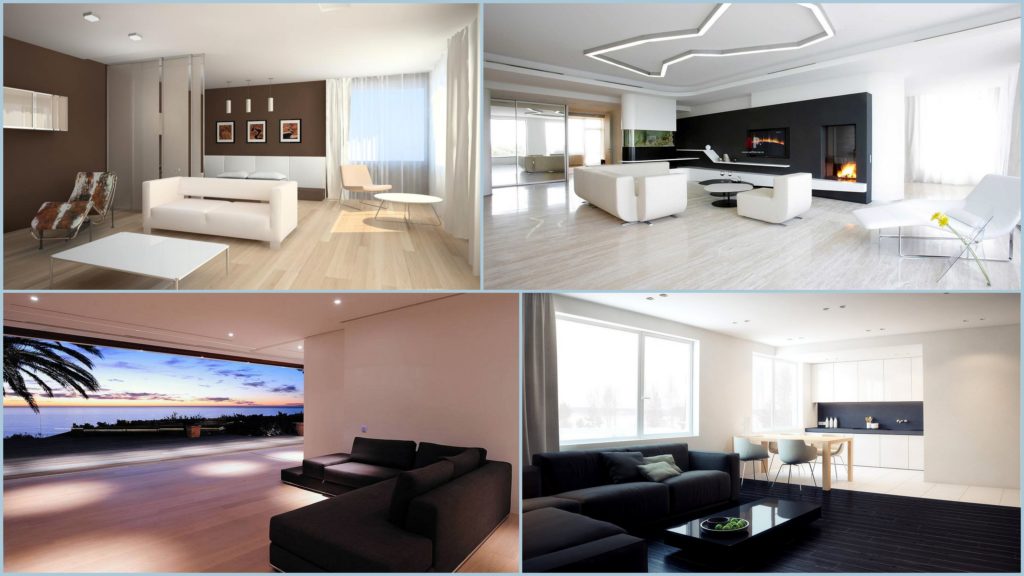 • Hi-tech style – wenge, black, or gray laminate are the most popular colors for hi-tech style.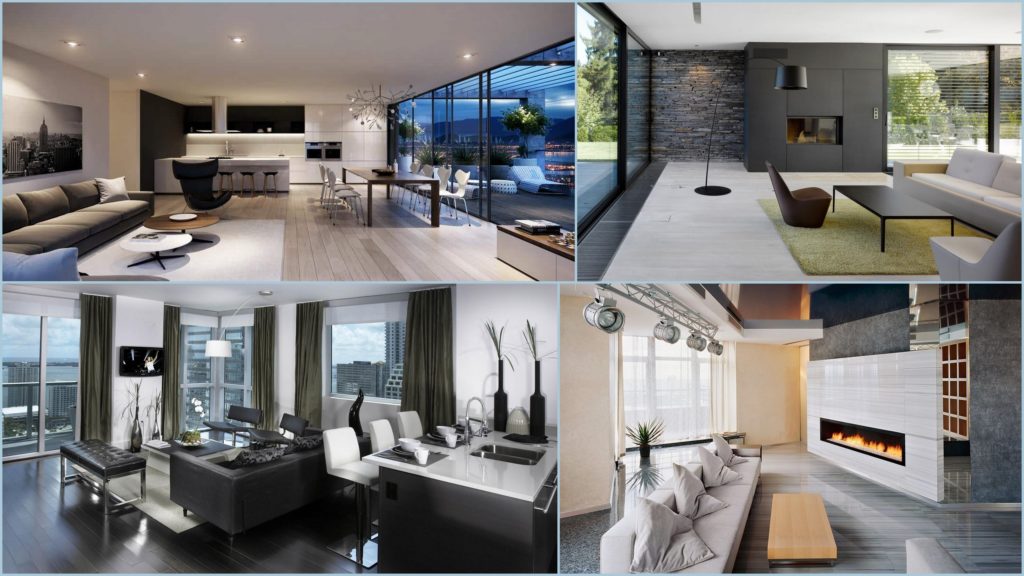 • Pop art – the floor color in this style can be unconventional and bright.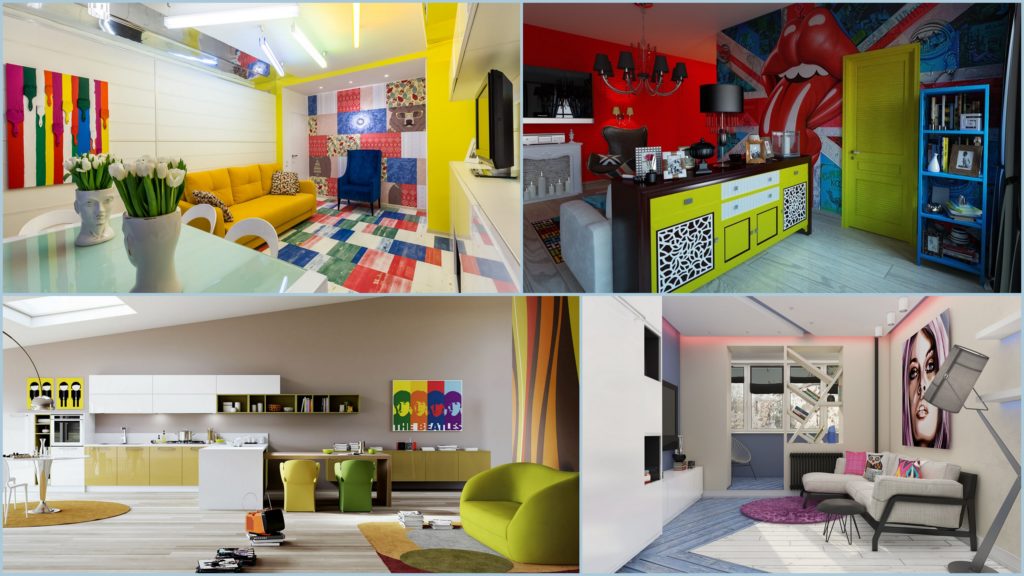 How to Care for Laminate Flooring and What to Use for Cleaning
Taking care of laminate flooring is relatively simple – it doesn't collect dust like some other surfaces, and you can vacuum it between wet cleanings, which should be done once a week. Specialized products designed for laminate flooring are used for cleaning. They can easily remove stubborn stains without damaging the floor's surface. For especially stubborn stains, acetone can be used.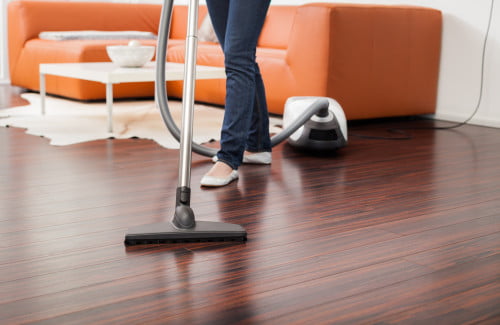 When wiping laminate, it's important to do so thoroughly to prevent streaks and any potential moisture from seeping between the seams. Modern mops with wringing systems work well for cleaning laminate floors.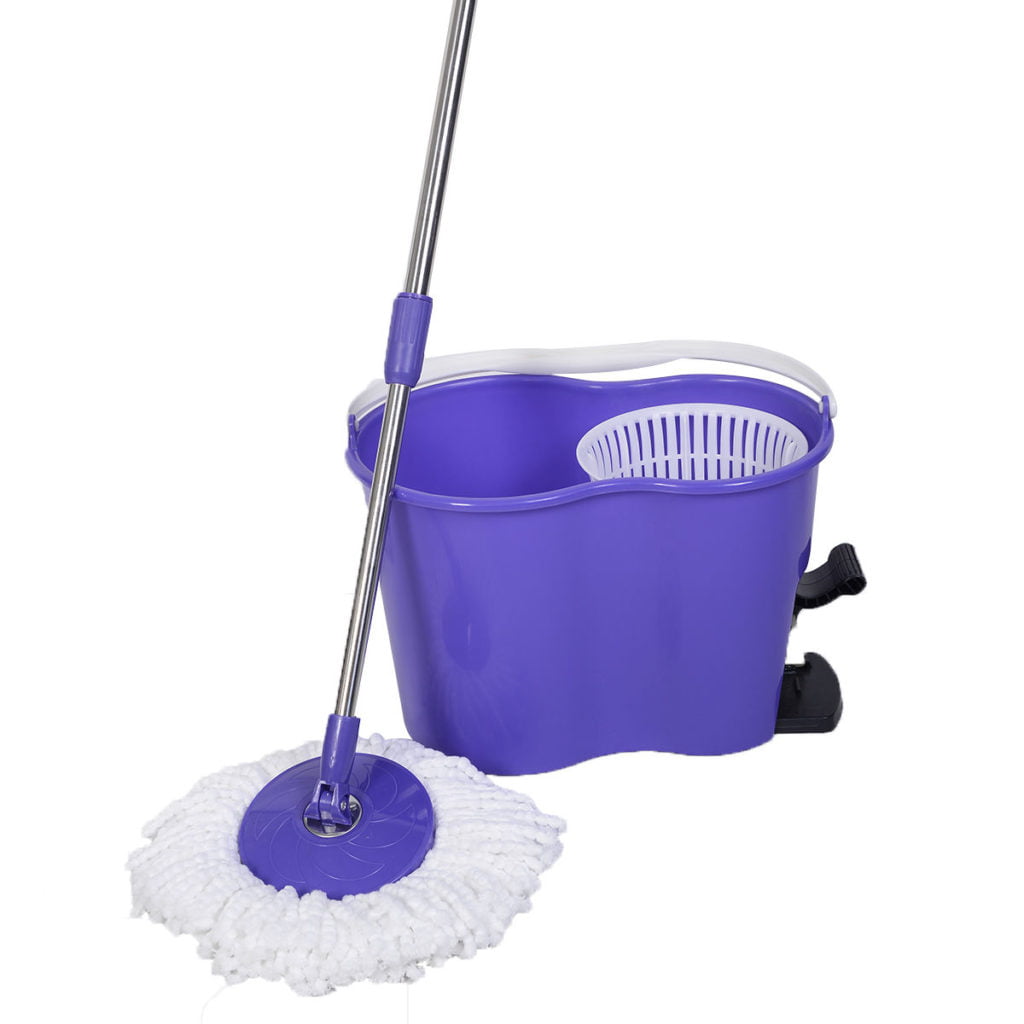 The technique for cleaning laminate flooring isn't much different from cleaning any other type of floor. The cleaning solution is added directly to water, and for heavy stains, it's applied to the spot and wiped clean after a few minutes with a wrung-out cloth.
Ink and marker stains on laminate can be removed with a solvent like acetone.
Hardened wax or chewing gum can be carefully scraped off, and a special laminate restoring compound can be applied to the cleaned area.
Stains from wine, vegetable, and fruit juices can be effectively cleaned with neutral pH cleaning agents.
Abrasive and aggressive cleaning agents, stiff brushes, and scouring pads should not be used on laminate. If scratches do occur, they can be masked with special laminate repair compounds. The key is to choose a compound that matches the laminate's color.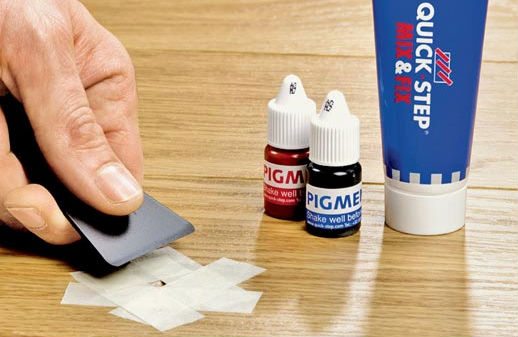 Sometimes, a damaged spot on laminate may be beyond repair with fillers. In such cases, if the locking system allows, you can replace the affected plank.