Hygiene is an essential aspect of everyone's life and the foundation of their health. For centuries, cultures around the world have developed self-care practices and body cleanliness as a preventive measure against various illnesses. Across the globe, you can find public and private facilities for these practices under various names: sauna, hammam, and more. While their purpose is similar, the principles of operation and construction vary significantly.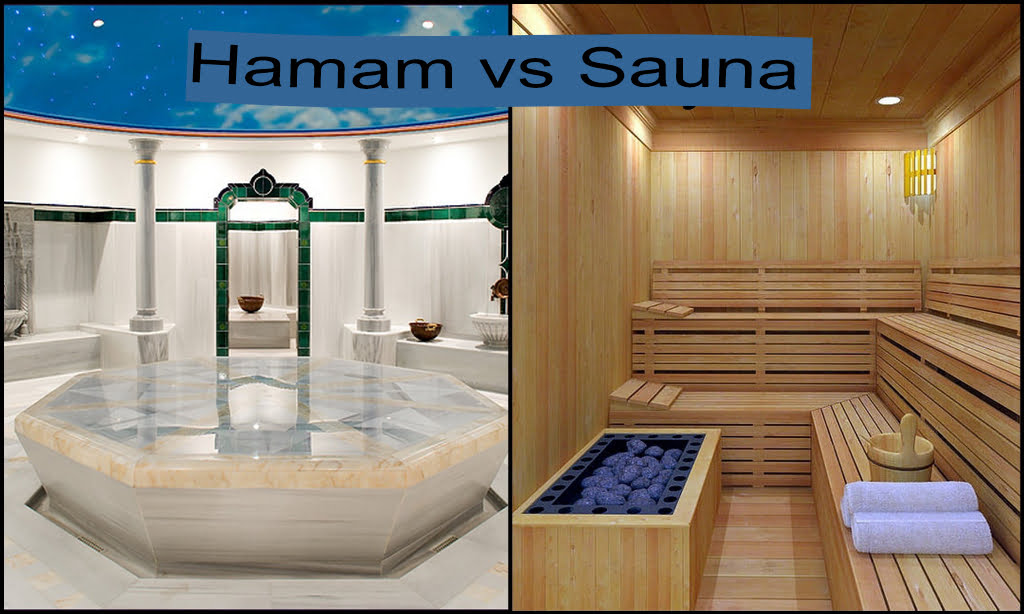 Sauna and Hammam Features
Sauna
The sauna is a national symbol of Finland, so it's correct to refer to this space as a "Finnish sauna."
Almost every residence in Finland is equipped with a sauna. And if, for some reason, it's not possible to have a sauna in an apartment, there will undoubtedly be a communal sauna in a multi-story building.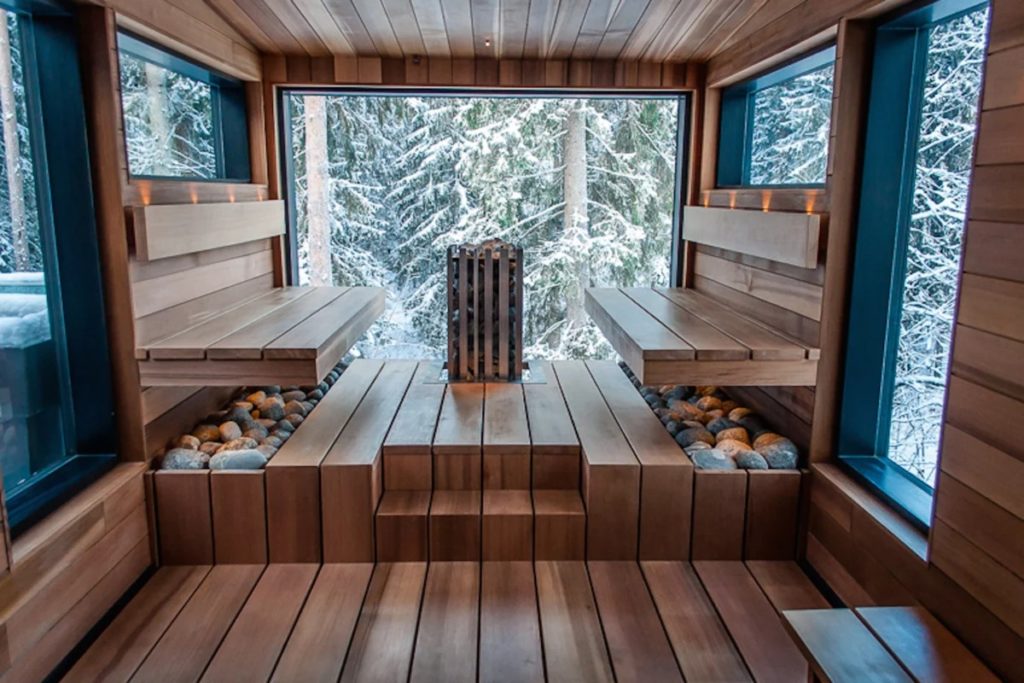 Finnish saunas have gained popularity worldwide, and you can enjoy their services at sports clubs, spa centers, hotel complexes, or, if space allows, install a home sauna.
A Finnish sauna is characterized by hot temperatures (around 140 degrees Celsius) but dry air (humidity not exceeding 15%). However, modern home saunas maintain a temperature of around 70 degrees Celsius.
The Finnish sauna operates as follows: stones are heated by fire, and the heat from the stones warms the air in the room, with excess heat escaping through the chimney.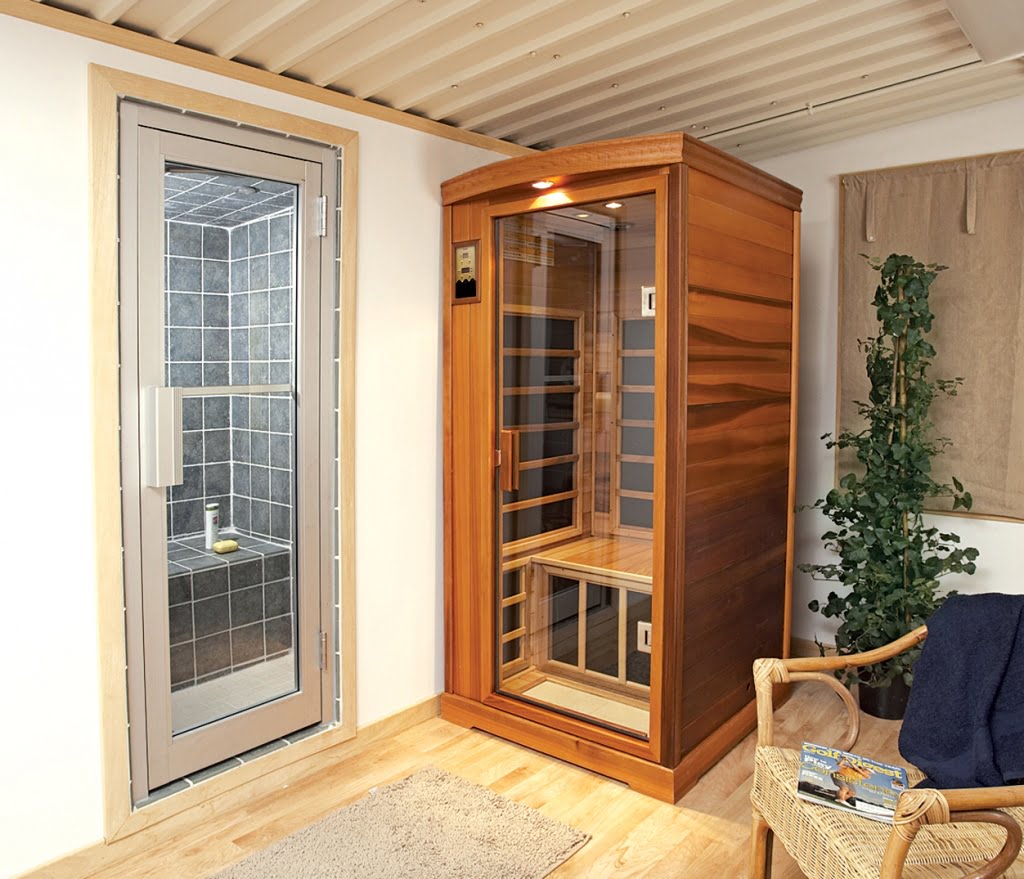 The sauna is equipped with several rows of benches where visitors undergo spa procedures. To create steam, water with aromatic herbs or essential oils is poured onto the stones. The hot, slightly humid air promotes sweating, and steam with aromatic additives serves as an excellent prevention against respiratory diseases.
After heating, the body temperature should be lowered to normal using a cold shower or a pool with cold water.
Modern sauna manufacturers offer two types of Finnish saunas:
Standard saunas that operate with heated stones;
Infrared saunas where infrared emitters are embedded in the ceiling and walls.
Hammam
Hammam, or Turkish bath, is the hallmark of Eastern countries. The idea was borrowed from antiquity when public baths were established in cities, where anyone could take a bath. In Muslim countries, public steam baths were also built to promote a culture of hygiene, which later became a part of their culture and religious philosophy. Therefore, in Islamic countries, even today, weekly visits to the hammam are a mandatory ritual for both men and women.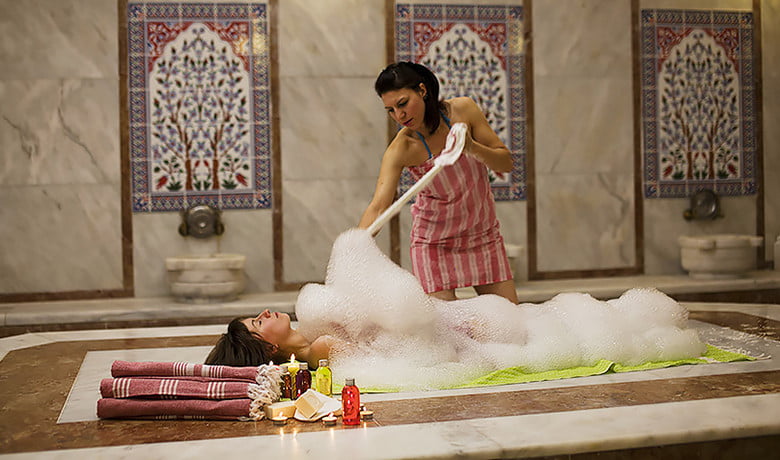 The air temperature in the bathhouse should be between 35 to 55 degrees Celsius. The humidity is very high, exceeding 90%.
Originally, these conditions were achieved by boiling water in cauldrons, but modern hammams operate with steam generators.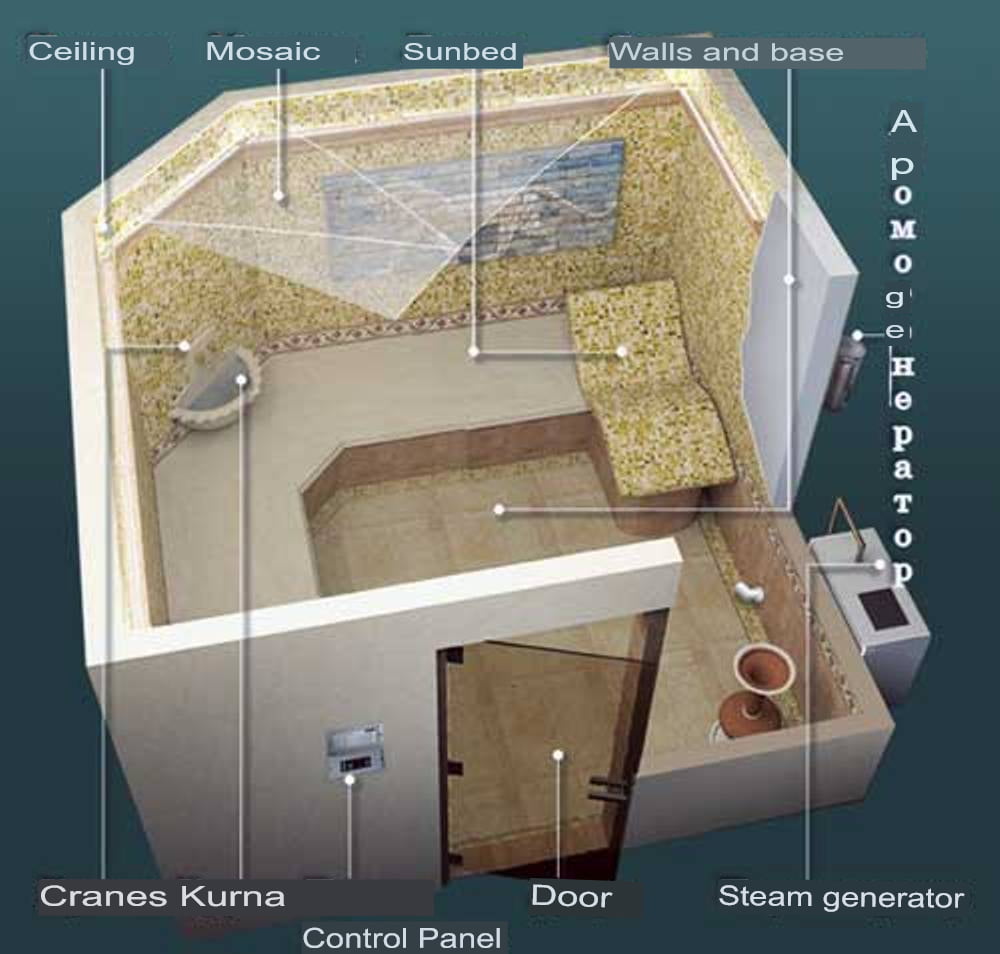 Regardless of the method of generating steam, it enters the bathhouse through pipes and evenly heats the room and its marble elements. It's common to add aromas with oils and herbs to the steam.
The hammam's ceiling is cool and lacks a chimney – steam settles on it, forms condensation, and consequently adds extra humidity to the air.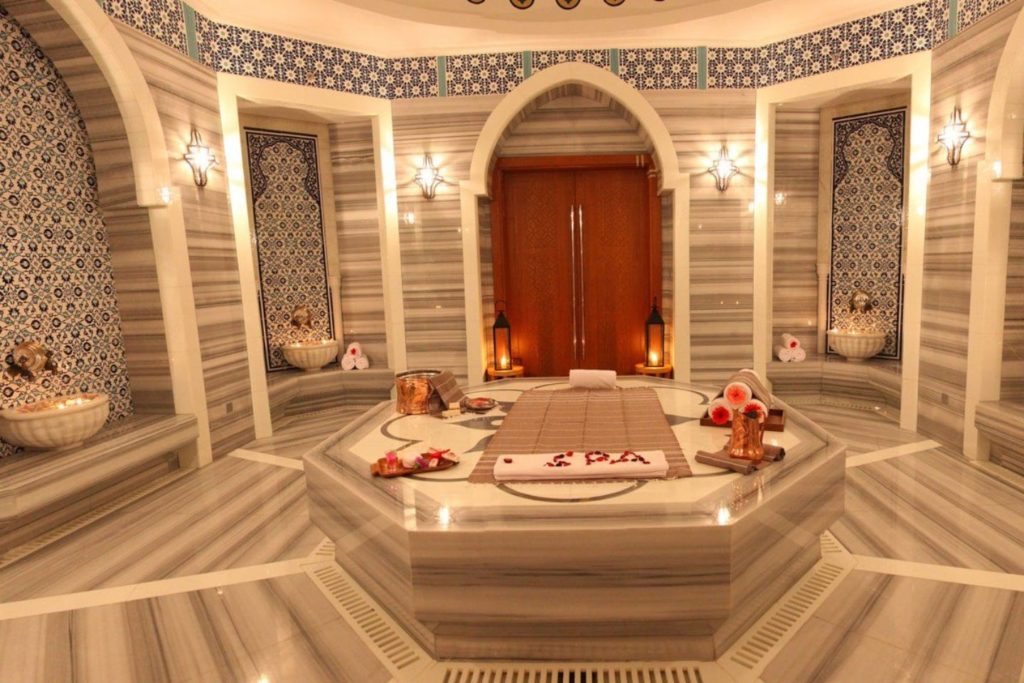 The hammam consists of several rooms with different purposes (technical and bathing) and temperatures.
It is standard to have a changing room with a temperature of up to 35 degrees Celsius and a shower. The steam room, where the temperature reaches 55 degrees, and a relaxation room with a temperature of 35 degrees as well.
Today, hammams are very popular not only in Muslim countries. Turkish baths have proven to be an excellent way to relax, maintain beauty, and health, which is why many beauty salons offer such spa treatments. Private homes and apartment complexes are also equipped with hammams.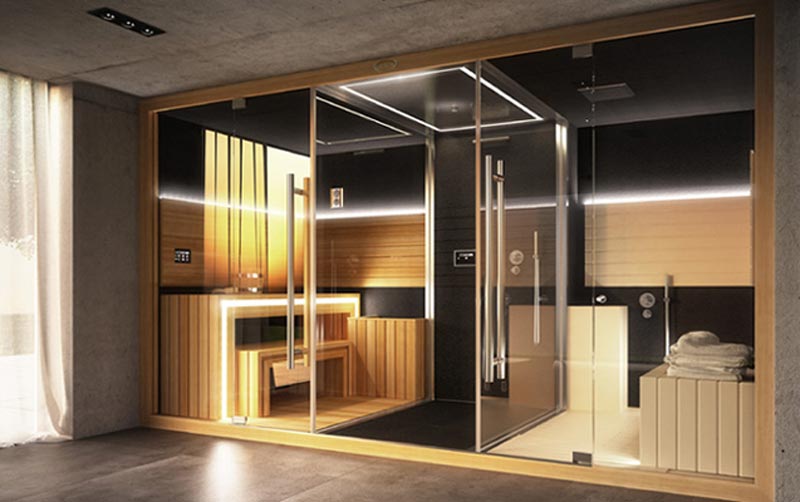 Comparative Characteristics
Despite both the Finnish sauna and the hammam serving the same purpose, their principles of operation, design, and their impact on the human body differ significantly.
The main difference between these steam rooms lies in the temperature and humidity levels in the air. The hammam maintains a moderate temperature (not exceeding 55 degrees Celsius) and high humidity (above 90%), while the sauna, on the other hand, features high temperature (above 100 degrees Celsius) and low humidity (not exceeding 15%).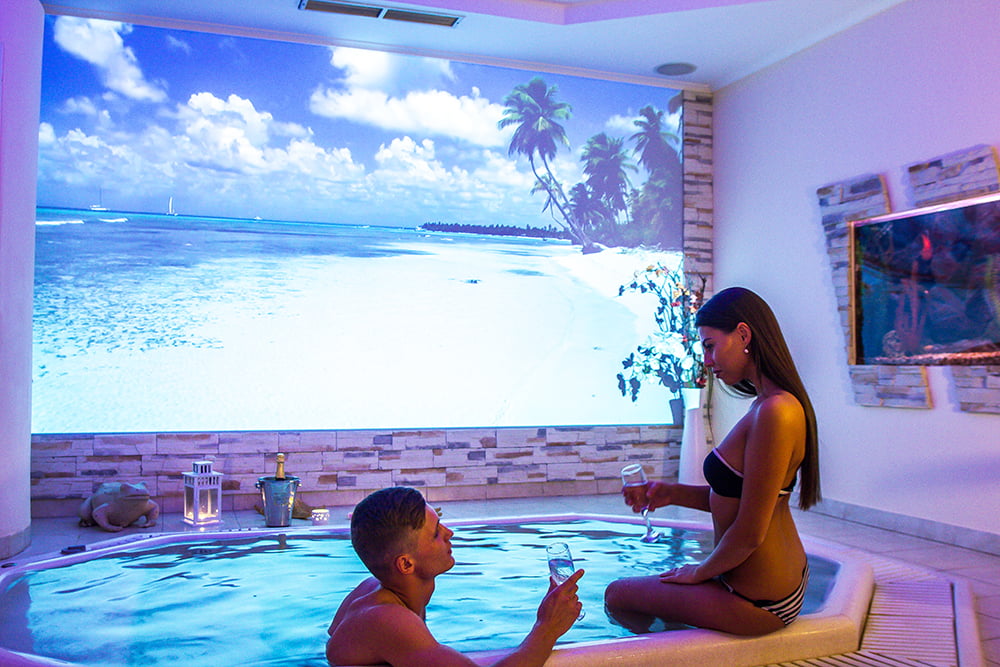 In the sauna, heating is achieved through the installation of a stove with stones directly inside the steam room. In contrast, the hammam is heated by steam delivered through pipes from a technical room.
The interior of a Finnish sauna always features wood paneling, while the hammam is traditionally adorned with stone, typically marble.
Hammam or Sauna: Which is Better and Healthier?
To determine which type of steam room to prefer, one should solely rely on their body's response. However, there are general recommendations to consider when choosing between a hammam and a sauna.
The high humidity in the hammam and relatively low temperature do not affect sweating but promote skin moisturization through condensation. Therefore, for pore cleansing, skin hydration, and overall body care, the hammam is considered the better spa procedure. It is recommended to use it in conjunction with diets and exercise for weight loss.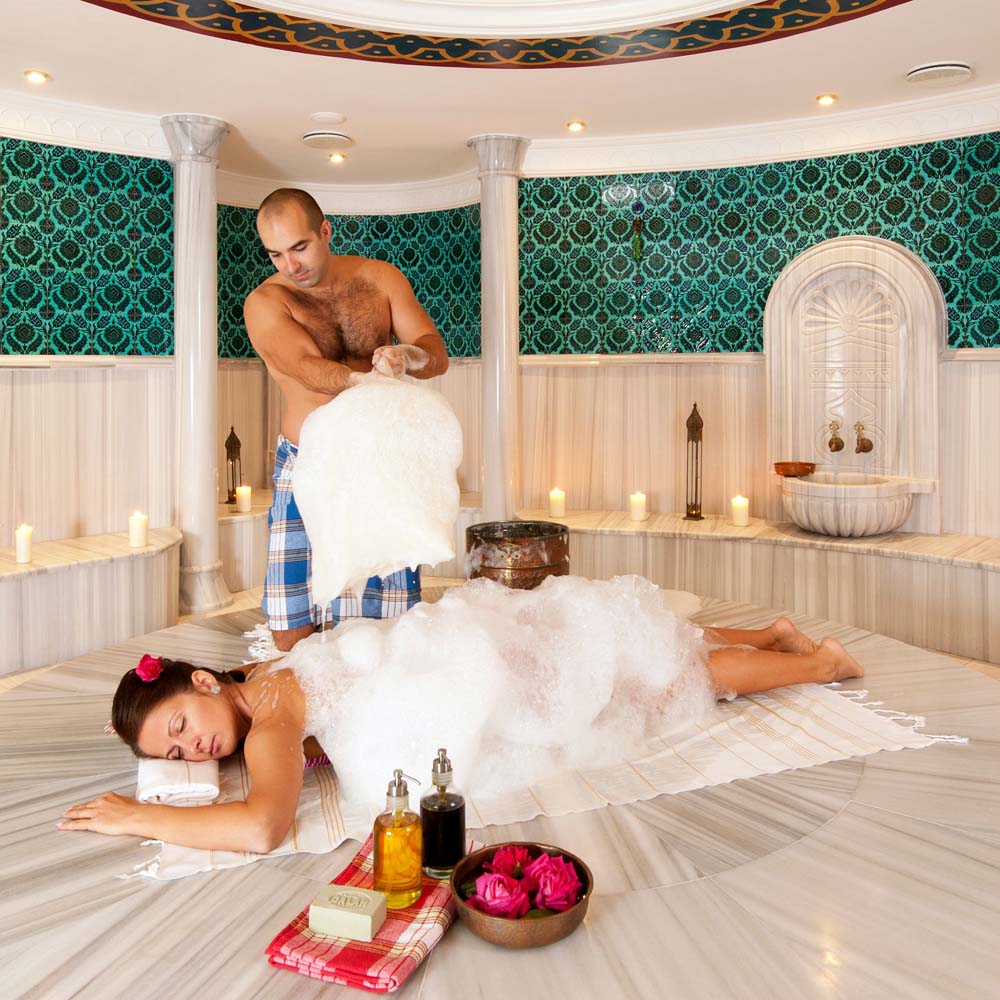 Turkish baths are recommended for people with skin conditions, peeling skin, various forms of skin allergies, and skin structure abnormalities caused by changes in subcutaneous fat. Regular visits to the hammam help regulate sebaceous glands, remove toxins, improve circulation and heart function, benefit muscles and joints.
The hammam is also an excellent means of preventing viral infections, chronic respiratory diseases, and throat conditions.
The Turkish bath has a positive impact on the nervous system and metabolic processes in the body.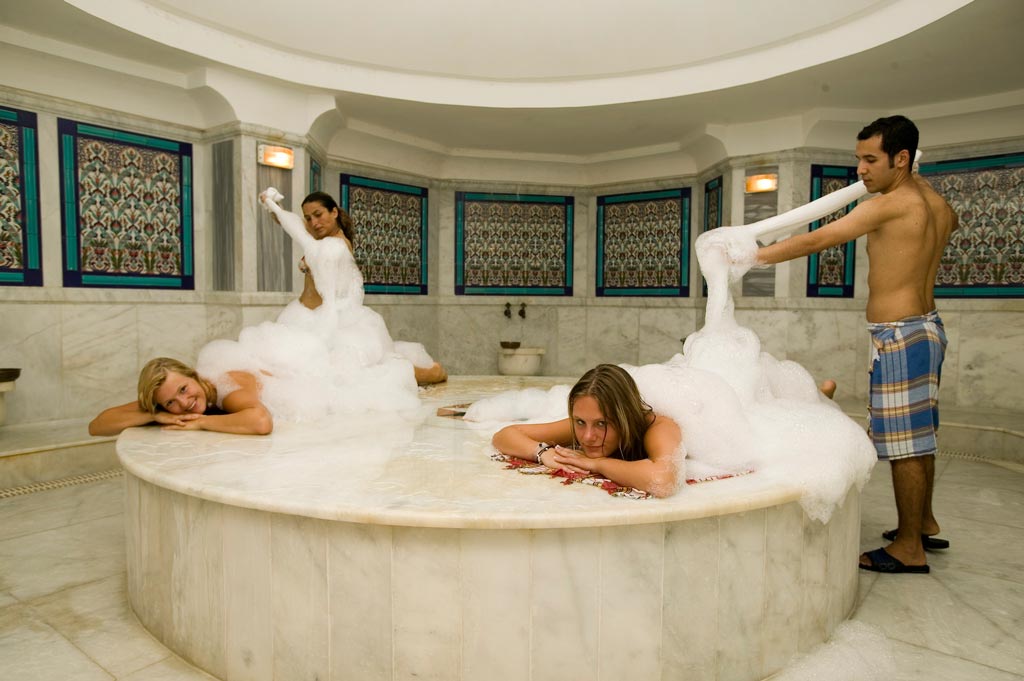 Despite its numerous benefits, the hammam is not a universal steam room because not every body can tolerate high humidity conditions.
The Finnish sauna also has its pros and cons. Spending time in hot, dry air promotes the activation of lactic acid movement and increased sweating. This procedure helps alleviate joint and muscle pain, has a positive impact on the immune and urogenital systems, and serves as a good prevention measure for respiratory infections and lung diseases.
However, individuals with cardiovascular diseases are not recommended to use the Finnish sauna because the hot, dry air can trigger a heart attack or stroke.
Thus, the hammam and sauna are significantly different from each other. The choice between them should be based on personal preferences and medical indications.